Austin native Antonia "Toni" Ruppert has been selected as the neighborhood's artist in residence.
The artist in residence program includes four neighborhoods that are part of Chicago Mayor Lori Lightfoot's INVEST South/West initiative: Auburn Gresham, Austin, Englewood and New City/Back of the Yards.
The Chicago Department of Cultural Affairs and Special Events was targeting neighborhoods where people were already advocating for the arts and their cultural resources, Deputy Commissioner Erin Harkey said.
Ruppert was chosen because of her deep connection to Austin, Harkey said.
Ruppert, 48, who was born in Austin and attended Christ Lutheran School, 5335 W. Lemoyne St., said she knew early she wanted to be an artist.
"My earliest memory is of seeing my father draw after work. My dad worked for Brach's Candy Company … I started to pick up on his focus, and I just thought I could do the same thing when I grew up."
One of her first pieces was purchased by the University of Chicago Hospital. "After that one I kind of hung my shingle and said I will do this for real."
Ruppert's work can be seen throughout the city, from a mural at the Austin Child Care Providers Network to the Chicago Public Library.
Rupert said when she learned of the project, and that Austin was one of the neighborhoods included, she "lit up" but felt the project would've been too big for her and wasn't going to apply.
"My husband, Michael, he encouraged me and he said, 'No, you can do this," she said.
So, she submitted the online application. The city reviewed her portfolio, and she was called to give a presentation before a group of community stakeholders who made the final decision.
Ruppert said she's the right person for the job because of her "passion and love for the community."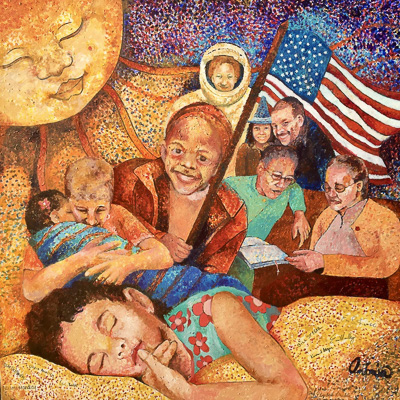 "There's a beauty there that I find as an artist," she said.
The city has allocated over $700,000 for the program.
Harkey said about $180,000 is budgeted for each of the four communities, $30,000 of it for engagement and participation, the other $150,000 for the artist's capstone project.
The artist's engagement in the program will be from one to two years, "depending on the nature of the project, how complicated the capstone project is to install; it will really drive the ultimate timeline," she said.
Ruppert said she's not sure what her project is going to look like; she still needs more input from the community.
One of her ideas is called "Spheres of Life."
Ruppert said it would allow people to tell the stories of people who live, or have lived, in Austin, on large spheres placed along Chicago Avenue.
She said the wrinkles in exactly how to get the community engaged are still being ironed out. She's open to anything from door knocking to connect with residents to engaging with the Chicago Police Department 15th District's faith-based initiatives and visiting community organizations to show her proposals and get feedback.
In the past, Ruppert has started with massive canvases and invited the community to come and help her "create pieces from imagination based on collaboration."
People would show up who've never painted before, or who haven't painted since they were kids, and paint with her for a few hours. She'd then take the piece to her studio to finish it.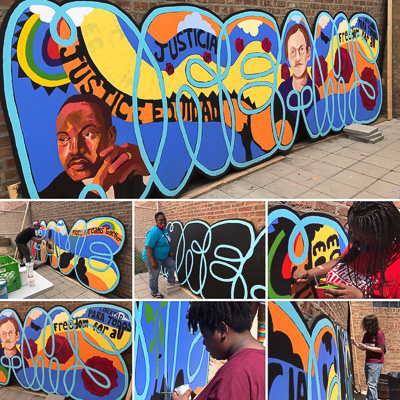 "Working alongside me, in that short period of time, opens something up for them," she said.
During the pandemic, Ruppert has used technology to ensure communities are still constituents in her work. "That's how we managed to create beautiful pieces this year.
"I want to make sure everyone's voice is heard. We're not in the business of putting up work in the community without the community's input," Ruppert said.
Harkey said this was the right time for the program to start because "the world is still moving. There's still needs, and there's still things to do."
She said the challenges of the pandemic re-emphasize the need for "investment, action and participation.
"We can't kind of let barriers or obstacles be barriers to progress. We're going to make the most of it."
Artists bring tools like community building and organizing to the table, and there is "joy and satisfaction" that comes from artists and communities realizing a project together Harkey said.
Rupert said she's excited to get to work.
"My goal is to be the hands and feet, creatively, of this community."