About 100 people gathered at Columbus Park Sunday for a morning bike ride to promote social justice and boost participation in this year's U.S. Census, which a judge last week decided to extend for another month.
Before riders set off on the more 10-mile round trip to Maywood and back, Donald Dew, president and CEO of Habilitative Systems Inc., which spearheads the Counting on Chicago Coalition, called on people to fill out the census.
He said the census has been extended an additional 30 days, through Oct. 31, and the coalition would be going deep into the South and West sides where "folks are hard to count, but we know it's not impossible to count."
Dew called on the crowd to "remember this about justice, not just us."
(Late Monday, the Trump administration announced the census will end early, on Oct. 5, defying a federal judge's ruling the count should continue through the end of October.)
State Rep. Chris Welch, who represents the 7th district, which includes Maywood, said the ride was to make sure everyone knows the Black community's voices are heard.
"Just this week the family of Breonna Taylor took another punch in the gut, we can never let her name be forgotten."
The crowd chanted Breonna Taylor's name several times.
During Sunda's speeches, Counting on Chicago Coalition staff members with iPads moved through the crowd, helping people complete the census online.
Dawn Cunningham, an educator and mentor for Austin Peoples Action Center, said she was able to fill out her census at the event. She had received it in the mail but had lost the paper form.
Cunningham said she was impressed with how quick the form could be completed. "It took no time. Literally, it was like seven minutes."
The Counting on Chicago Coalition assisted 38 people with filling out the census at Sunday's event.
Lyft partnered with the event to provide free Divvy bikes to people who hadn't brought their own to the ride.
Using a Divvy bike was a new experience for her. From signing out the Divvy bike to the riding the route, everything went smoothly, she said.
Cunningham said in Black communities it can be hard to work together, but Sunday's event was uplifting and gave her hope because everything went so well.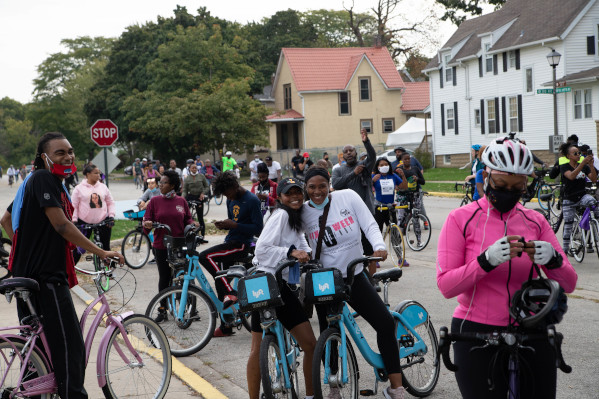 Tia Ford, state Rep. La Shawn Ford's daughter, 16, said the event brought the West Side together.
As the ride traveled west from Austin into the suburbs, she "saw people looking at us. They saw a group of Black people riding together. You rarely see that, especially in Oak Park… that was a very powerful moment."
Tia Ford said Sunday's ride showed "there's more to us Black people than what we're going through right now. … and we're going to be successful together."
To complete the census, you can go online to the Census Bureau's website, call (844) 330-2020 or mail back the paper questionnaire that was sent to you. Language guides are available in 59 languages, as well as large print, Braille and American Sign Language. There is no citizenship question on the census, and all information is kept confidential.