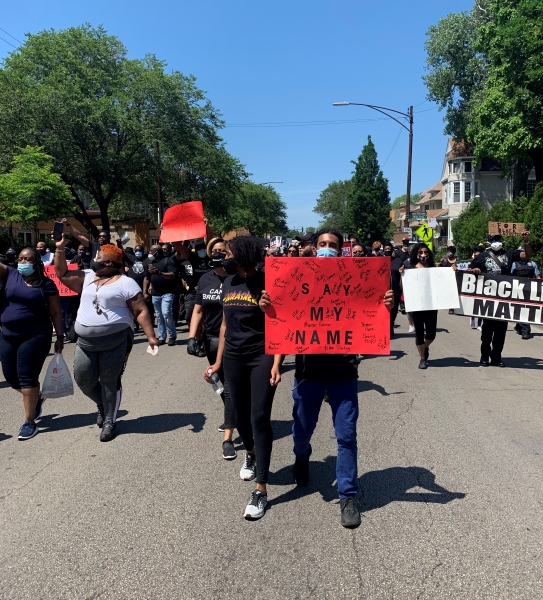 A few hundred protestors gathered Sunday afternoon outside the City of David Church at 5624 W. Division St. then marched down Central Avenue toward the Chicago Police Department's 15th District headquarters.
Protesters carried signs that read "My sons lives matter," "Stop killing black people," "He called for his momma" and "We're here for George Floyd," and they chanted "I can't breath," "Get your knee off my neck," "No justice, no peace, no racist police" and "Black Lives Matter."
Three young men carried a massive rendering of a modified black liberation flag.
Multiple elected officials participated, including U.S. Congressman Danny Davis and state Rep. Camille Lilly, along with community leaders and at least 25 members of the clergy from area churches.
A group of officers, whose number varied between four and eight during the protest, were at the head of the march. Yolanda Talley, 15th District commander, led her officers throughout the hour-long march.
Despite police lining the protesters' route, as well as marching at the front of the protest, tensions were generally low. Protesters were seen breaking off to chat with police officers then returning to the march.
One moment of tension occurred at the corner of West West End and Central avenues, when a man dropped his bike in the street and jumped into the middle of a group of officers.
Before the officers reacted, a protestor took the man by the arm and led him back to his bike, while several other protestors yelled at him to leave, which he did.
The line of protestors stretched for over a block and grew as residents came out of their houses to join in.
Michelle, who wanted to be identified by only her first name, saw the protest passing by her house and decided to participate. Michelle said it was important for her to support the protest because, "I'm black, I've been a victim of police brutality," she said. "We need change."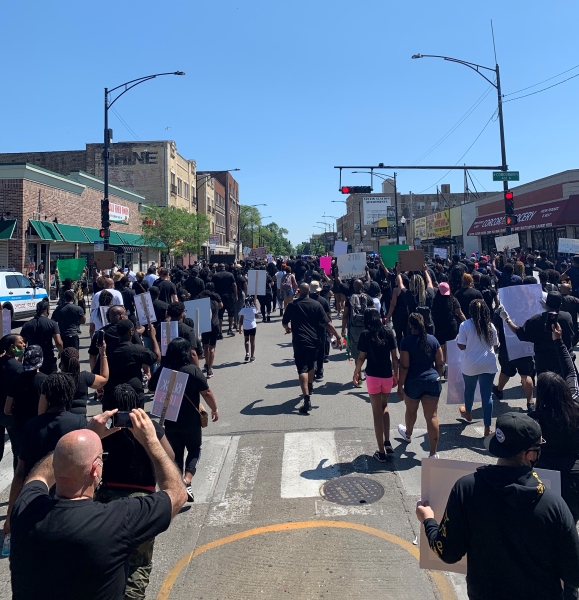 Bria, a protester who came from the South Side and was protesting downtown last week, said the recent protests are about a lot more than the killing of George Floyd. She also declined to give her last name.
"George Floyd was the icing on the cake to what's been going on for decades … so many black people that [have] lost their lives, wrongfully, due to the people who are supposed to protect us," she said.
The protest followed another held Thursday in which more than 1,000 people marched from the Oak Park Village Hall to the 15th District headquarters.
Sunday, at the police station, 5701 W. Madison, protesters packed around a small stage to hear community and government leaders speak.
Rep. Davis congratulated recent high school graduates and called on them not only to go to college but also to return to Austin and join the police force.
"We want you to be the policemen of our community because we know that you know what is the right thing to do," he said.
Pastor Tyree Beard, of the City of David Church where the march began, told the crowd, "Today is just not another protest, but today is the day of action. If you just came to a march, you came to the wrong place. You best believe we got action to do."