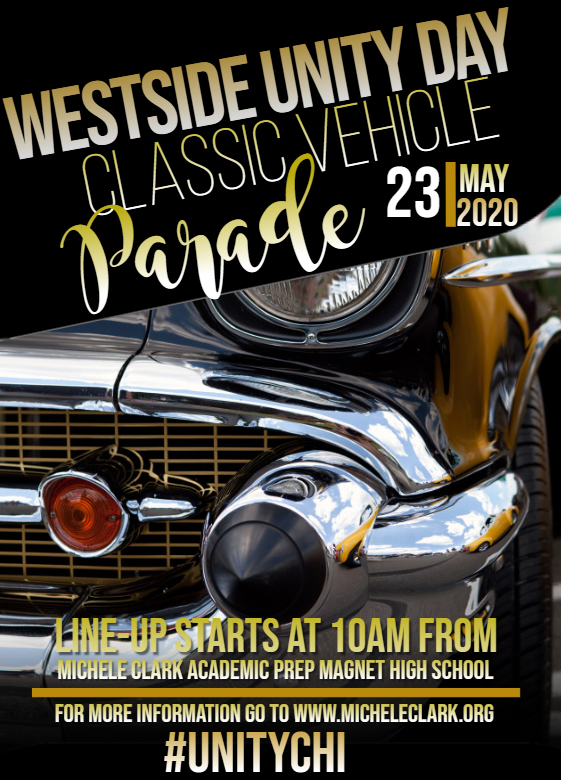 West Side residents are invited Saturday to participate in Michele Clark Academic Prep Magnet High School's unity day classic vehicle parade, which kicks off at 11 a.m. at the school.
Memorial Day is a day set aside to remember and reflect on those who have died. As the city battles COVID-19, gun violence also continues to plague the streets. To promote life, uplift the human spirit, champion physical safety and support mental health, Saturday's parade is the culminating event in the high school's unity week, which started Sunday.
"Our students are our family, our community is our home – we have to demonstrate our compassion as we get through this together, so I called my extended family and they responded," says Principal Charles Anderson, who will serve as grand marshal.
The parade will navigate through Austin so residents can enjoy the display of classic cars and floats with community and school leaders.
Participants include the Chicago Police Department 11th and 15th Districts; Michele Clark Academic Prep Magnet High School; Edward K. Ellington Elementary School; Plato Learning Academy; Spencer Technology Academy; George Leland Elementary School; Ella Flagg Young Elementary School; George Rogers Clark Elementary School; Oscar DePriest Elementary School; Henry H. Nash Elementary School; Milton Brunson Math & Science Specialty Elementary School; Leslie Lewis Elementary School; state Rep. La Shawn K. Ford; state Rep. Camille Y. Lilly; Ald. Michael Scott (24th Ward); Ald. Jason C. Ervin (28th Ward); Ald. Chris Taliaferro (29th Ward); Ald. Emma Mitts (37th Ward); BUILD Chicago; Institute for Nonviolence Chicago; Prevention Partnership; and Austin Coming Together.
There will be pop-ups to distribute PPE, food, census, COVID-19 and violence prevention information.