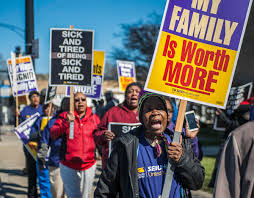 Workers at three nursing homes in Austin have voted to go on strike May 8th, their union announced this week.
SEIU Healthcare Illinois said workers delivered strike notices to administrators at The Austin Oasis, at 901 S. Austin Blvd.; Symphony of Chicago West, at 5130 W. Jackson Blvd.; and Mayfield Health Center, at 5905 W. Washington Blvd., and about 40 other nursing homes in the Chicago area and downstate.
The union said it expected the number of facilities targeted for a strike to grow as workers across the state finish voting.
SEIU Healthcare Illinois has been negotiating a new contract for about 10,000 of its members who work at 100 nursing homes statewide. Union officials say the strike action is necessary because the facilities have ignored their pleas for essential resources, safe practices and information. The current contract is set to expire May 1.
"There was a crisis in nursing homes before COVID-19," SEIU Healthcare Illinois President Greg Kelley said. "COVID-19 has merely exposed a crisis that has existed in nursing homes for years."
At a press conference this week, Kelley said the union have asked for a one-year contract to get through the coronavirus pandemic, but the owners have refused. The situation has become dire, he said: "Residents were dying in large numbers, then our members started dying."

Two of the three Austin nursing homes – the Austin Oasis and Mayfield Health Center – did not respond to a request for comment.
But a spokeswoman for Symphony of Chicago West said in an email, "Certified Nursing Assistants fill a critical role in caring for the elderly and vulnerable patients at our facilities We support the (nursing homes') offer to increase CNA pay and are already issuing hazard pay at Symphony facilities.
"We sincerely hope the union can work through its concerns with the operators' association by remaining at the negotiating table rather than instructing their members to walk off the job during our patients' time of greatest need," wrote Lauryn Allison, director of communications for Symphony Care Network.
The union is pushing for pay increases and more staffing as well as sufficient personal protective equipment. They're also demanding that nursing home administrators be transparent about COVID-19 cases and the risks at each facility.
The Illinois Department of Public Health has begun tracking the number of COVID-19 cases and deaths in the state's nursing homes, though the database has often lagged compared to what's been reported in the media.
As of April 24, the state health database was showing four cases and no deaths had been reported at The Austin Oasis; Symphony of Chicago West had 13 cases; and Mayfield Care Center had 12 cases.
Francine Rico, who's worked 23 years at a South Side nursing home, said she is scared. Rico said she and her co-workers have told management at Villa of Windsor Park they need more PPE, and they want to know who at the facility – residents and staff – has tested positive for the coronavirus.
"My sister who works with me has tested positive for COVID-19, and I have other co-workers who have it, too," Rico said tearfully. "We're fighting for our residents right now."
The union has asked for a one-year contract that would set a wage floor of $15 per hour for all workers and $16 an hour for CNAs; they also want a 50% hazard pay bonus during this emergency period.
Additionally, SEUI Healthcare Illinois is proposing an additional 80 hours of paid sick leave for COVID-19 or related illnesses and continued health care coverage for any vulnerable workers who have to take leave from their job to protect themselves and their families.
In 2017, a strike at more than 50 Chicago area nursing homes was avoided hours before it was set to begin, the Chicago Tribune reported.