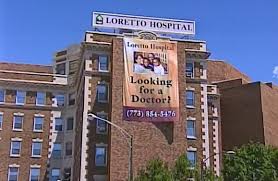 After receiving low ratings for the past two years, Loretto Hospital, 645 S. Central Ave., has improved its patient safety measures on the Leapfrog Hospital Safety Report.
"We worked very hard, and we recognize this as an important measure by Leapfrog," said George N. Miller, 68, president and CEO at Loretto Hospital, which received an A rating for its fall report, after receiving average ratings of C's and D's.
"It tells the world about our quality and our patient safety as an organization," Miller said.
The Leapfrog Group, a national nonprofit based in Washington, grades hospitals across the country on factors like in-patient care, infections and practices to prevent error. Hospitals voluntarily participate, and Leapfrog releases reports twice a year.
According to its most recent report, Loretto Hospital scored above average in preventing infection for C. diff (clostridium difficile) and urinary catheters, but there is no information about how well they prevent infections for Methicillin-resistant Staphylococcus aureus (MRSA, staph infection).
The hospital also scored above average for tracking and reducing risks with patients and for effective hospital leadership and staff.
Miller noted that Loretto remains the largest private employer in Austin, with 624 people on staff, and 68% of those employees come from the hospitals' primary service area, which includes Austin, Oak Park, Humboldt Park, West Garfield Park, South Lawndale, Elmwood Park and Belmont Cragin.
The Leapfrog report is welcome news in a year that saw Loretto close its intensive care unit because they were owed $13 million in reimbursements from insurance companies, including Cook County's government health insurance plan.
Senate Bill 1807 was introduced with backing from state Rep. La Shawn K. Ford and other legislators would require health care providers who have a claim to reimburse funds to the hospital within 30 days.
"If we don't get a handle on these managed-care organizations, nonprofits and the safety net hospitals will close because the reimbursement rates are already low," said Ford, who said late payments can hurt safety net hospitals that are needed in areas like Austin.
Loretto also has opend a new outpatient infusion therapy center to treat chronically ill patients and added new on-site MRI services with advanced 3-D mammographic imaging.
Clinical trials being held at Loretto, funded and conducted in collaboration with Oak Brook research company Affinity Health, now include an asthma research opportunity. Other studies underway at the hospital include sickle cell disease, Crohn's disease, heart failure, ulcerative colitis, pericarditis and low testosterone.
"We are obviously wanting to target clinical trials that address the medical needs of patients that come into the hospital," said Dr. Ali Ahmed, president of Affinity Health.
Ahmed said the trials are important for providing patients with additional health care options, especially in black and brown communities where those options are less available.
"We want to expand that so every patient knows how beneficial these clinical trials will be and how safe they are," Ahmed said. "They don't have to look at health care as being restrictive and not inclusive of them if they are not insured or have other restrictions."