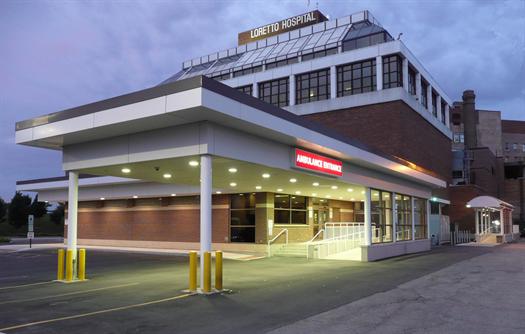 The Loretto Hospital has become the first safety-net hospital in Illinois to conduct clinical trials, creating new and local treatment opportunities for West Side residents.
Anosh Ahmed, chief operating officer and medical officer, said the hospital's new clinical research department will allow Loretto to develop prevention and treatment methods for patients at a local level.
Ahmed said having local clinical trails will help Austin residents find new treatments for conditions such as sickle sell disease and heart disease. To ensure community members are able to participate in the trials, Loretto is offering transportation for community members to become involved.
"We're going to take that extra measure to ensure people can participate," Ahmed said. "We're going to see patients in the community to improve the overall health outcome of the community."
The department, comprised of five newly-hired and full-time employees with clinical research experience, will be funded and operated by the Oak Brook research company Affinity Health. Ahmed said grants for clinical trial programs are typically awarded to larger, teaching hospitals.
"Typically, grants go to the bigger universities and teaching hospitals," Ahmed said. "We do want to fight on the forefront and tell people that smaller, safety-net, community hospitals can do clinical trials, and they can be successful."
Affinity President Ali Ahmed said conducting clinical trials in community hospitals is a growing trend in the medical industry because it allows access to diverse groups of patients and provides patients who live far from larger hospitals the opportunity to participate.
"The transition is currently occurring where community hospitals are being identified as really an important partner in drug development," Ali Ahmed said.
Marina Palumbo, a clinical research coordinator at Affinity, said oftentimes, African-American communities are underrepresented in clinical trials and neighborhood outreach can ensure diverse groups of patients have access to the studies.
Trials are already underway to find new treatments for sickle cell disease, heart disease, Crohn's disease and ulcerative colitis. By developing new treatments for illnesses such as sickle cell disease, Anosh Ahmed said the new department hopes to see a drop in emergency room visits resulting from the disease.
Approval from the U.S. Food & Drug Administration and the hospital's Institutional Review Board must be granted before each study.
Anosh Ahmed said he hopes to have between 20 and 30 clinical trials operating at Loretto by the end of 2019. He also encouraged other safety-net hospitals to consider developing clinical trial operations themselves.
"There are going to be barriers and challenges, but if you can improve the overall outcome of the community, I think that's worth the fight and the hassle."