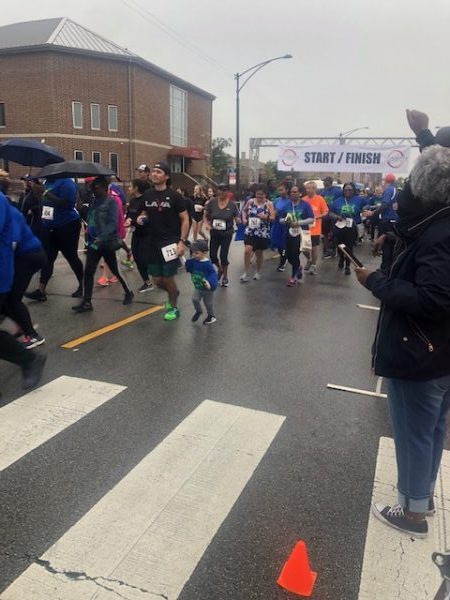 By Krystin Williams
Neither rain nor chilly weather could damper enthusiasm at last weekend's Austin POWER 5K run/walk.
More than 500 people participated in last Saturday's event, the fifth annual held to celebrate and show pride in the city's most-populated neighborhood. This year the focus also was on raising awareness, especially among black males, about the importance of staying healthy.
Before runners and walkers kicked off at 8:30 a.m. at the corner of Chicago and Mayfield, Rev. Cy Fields, senior pastor of New Landmark Missionary Baptist Church in East Garfield, and his mother thanked the crowd for turning out and encouraged them to take care of their health. This year's race was dedicated to the memory of their brother and son, Decon Ywain Fields, a well-known DJ at WVON, who died of a heart attack earlier this year at the age of 56.
The first-place male finisher was Maxwell Crawford, 21, with a time of 19:12, while Lacey Fournier, 39, was the first-place female finisher, with a time of 22:24.
Crawford said he enjoyed the day. "Even though this was my first time participating, I have always been involved in track and field. It was a great event to be a part of."
Among the first group of finishers after Crawford and Fournier was state Rep. La Shawn Ford and Peter Sagal, host of WBEZ/Chicago Public Radio's Wait Wait … Don't Tell Me!
This was a repeat event for many of the walkers and volunteers.
"Since this event has started, I have been here," Deborah Jackson-Johnson said. "I help the vendors set up their tables and consistently stop by to see if they need anything."
She hopes the number of participants, vendors and supporters will increase next year. "The people in the community should come out and support. With us older folks always attending, it will soon be up to the younger generations to step up and continue the tradition."
Also in the crowd was Owens "Joe" Shelby, an Austin native who works as a prosecutor in the Cook County state's attorney's office. He hopes to see an even bigger turnout next year.
"I participate each year because I love my community. I did not have these sorts of events while I was growing up," Shelby said. "It is nice to see something positive coming out of this community."
Organizers said they'll begin meeting soon to plan the 2020 run/walk and welcome volunteers.