It is easy to get lost in the smell and history of Robinson No 1 Ribs in Oak Park.
And now it's easy to get lost in its music thanks to Daron Gross, also known as DJ Sirprize, who's been the host DJ at happy hour on Tuesdays and Thursdays (from 5 to 7 p.m.) for nearly two years.
Gross is good music personified. He stands over 6 feet tall, glossed-bald head, a signature graphic tee, jeans, hoodie and a patented smile — his usual swag.
You can hear a stepper's groove or Anita Baker swooning over the speakers. The music reminds you of your parent's or grandparent's tape decks — nostalgia. As the night goes on, he'll transition into a more contemporary set.
It has become a gathering of Oak Park school alums and others beyond.
In the age of Apple play lists, disc jockeys have had to adapt. The art of playing music has become impersonal. You can put on your favorite songs in the comfort of your head buds and disconnect from the world around you.
"It's a blessing," Gross says during a recent sit down at another South Side residency.
Gross says it's a combination of knowing your crowd and knowing your music.
"You gotta love music," he says. "You can't be a one-trick pony."
Other promoters also attest to Gross's dedication to his craft.
"He's always prepared," says Shevon, the other half of happy hour at Robinson's and a real estate broker.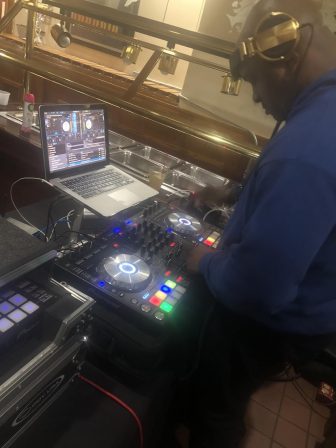 When asked about his command of the set, Gross responds, "It's a passion now, man. I got too much invested."
With about $10,000 of equipment at his disposal Gross says his 2019 calendar is almost booked.
Gross stepped behind the turntables roughly five years ago when he suddenly found himself without a job.
"In 2013, I got laid off," Gross says. "I never thought it [being a DJ] was in my blood."
His father was a DJ, and his oldest brother is still a DJ.
You can feel his sounds at spots like Po Fred's at 5464 W. Madison St., Lemelle's and a host of dives across the Chicago area. He does weddings and private events, too.
"The only days I'm off are Fridays and Mondays," Gross says. "It's all about marketing and business."
"I saw Daron when he first got started, patiently awaiting his turn," says Michelle Sweets, affectionately known as Sweetie, a bartender and also a real estate broker.
Sweets says she has known Gross for seven years and considers him one of the South and West Side's best DJs.
"He just has a great personality," Shevon says.
Gross often shakes hands, gives daps and hugs the patrons in attendance. He's known for being slightly comical on his microphone as well as welcoming a random visitor at the bar.
His mastery of genres, blending tracks and an almost-booked calendar tells you he's really not a surprise but gifted.