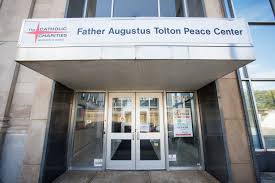 Teens can face intense stress and experience anxiety from a variety of family and school pressures. Catholic Charities' new support group at the Tolton Peace Center in Austin will help teens combat stress, set goals and connect with other teens for support.
The new group, "Understanding Me and My Story," will meet every Wednesday evening for seven weeks starting Nov. 7 at 5645 W. Corcoran Place.
"We know that teens have unique needs when it comes to stress management," said Maria Hernandez, a therapist at Catholic Charities. "We want teens to know they don't have to go through it alone, and there is a safe space to express themselves and their concerns, and develop solutions."
Teens will find a relaxed, safe and fun atmosphere in the group. CTA cards and dinner will be provided, and all who attend can enter to win raffle prizes each week for gift certificates.
Teens will receive help to understand who they are and who they want to be, how to develop healthy relationships, how to create and meet goals, unique ways to learn how to manage stress and be able to make new friends.
The group, which will meet through Dec. 19, is open to any teen who's 14 to 18.
For more information, contact Maria Hernandez at (312) 602-1462 or email her at marhernandez@catholiccharities.net.