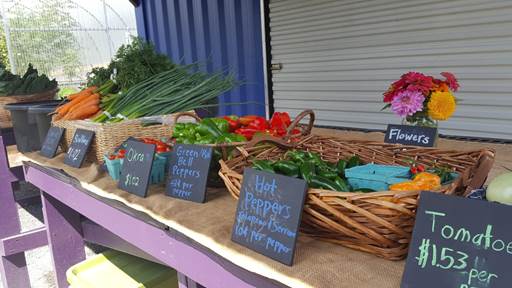 The PCC Austin Farm Stand will kick off its eighth year of selling low-priced, organically grown fruits and vegetables in Austin on June 5.
The produce is harvested locally, from the PCC Austin Farm.
Customers will be able to choose from among a variety of seasonal items, including tomatoes, okra, garlic, lettuce, cucumbers, mustard and collard greens.
This summer, the farm stand will be open every Tuesday from 12 to 5 p.m., as well as the third Saturday of each month from 10 a.m. to 1 p.m. until Oct. 20.
Located at 330 N. Lotus Ave., the stand accepts various payment methods, including cash, credit/debit, LINK, Senior Farmers' Market Nutrition Program vouchers, and Women, Infants and Children (WIC) farmers' market coupons. Double value incentives are available for LINK and WIC purchases.
When the summer stand is open, the farm staff enjoys sharing creative healthy recipes that use ingredients from the farm. In addition, free children's books are available.
"We have been preparing for a successful season since January, and we are thrilled to open in June," says Lucy Flores, community outreach health education manager. "Also, we have planned some practical workshops to help people grow their own fruits and vegetables in their home gardens."
In partnership with the Chicago Botanic Garden, PCC Community Wellness Center established the PCC Austin Farm in 2015 to increase access to fresh produce for Austin residents.
By encouraging Austin residents to eat more fruits and vegetables, PCC hopes to improve their overall health and reduce the risk for chronic conditions such as diabetes and high blood pressure.