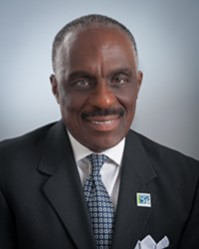 It's just a 20-minute drive from Austin to the Gold Coast, but that distance makes a big difference to West Side residents, says Loretto Hospital President and CEO George Miller Jr.
That's because the life expectancy of the average Gold Coast resident is 88 years, while it's just 68 years for someone living in Austin.
"We should not have this disparity in health care," Miller told about 50 people gathered Sunday morning at Third Unitarian Church in Austin.
Nationwide, about 32,000 African-Americans die too soon because of the so-called "death gap" – something Loretto's new leader is committed to changing.
"This country is rich enough for everyone to get health care," Miller said, noting that people like him who have a suit and tie – and good health insurance – have options. But if you're uninsured, you're out of luck. "That is just wrong."
"There are two Americas of health and healthcare delivery," said Miller, who took over at Loretto Nov. 1.
Disparities in quality of care are common, Miller said. So, too, are disparities in access to health care, especially among Hispanics and the poor. And these disparities, for the most part, aren't getting better.
Miller said creating a healthy Austin community is a central part of the mission of the hospital, Austin's biggest non-government employer with almost 600 workers and a budget of nearly $60 million.
Loretto can lead the way in Austin – by partnering with churches and other organizations, Miller said.
The hospital – which serves over 39,000 patients a year – offers a number of services that many may not know about, including free transportation to and from Loretto, a men's health program and an addiction center.
The hospital is planing a number of new initiatives, including:
Opening an MRI unit within the hospital that will allow patients weighing up to 600 pounds to be served
Hospice and palliative care
Pain management services
Loretto just signed a $5 million contract to conduct clinical trials and testing with the goal of improving care for patients being treated for opioid use.
Miller said African-Americans are more severely affected by the opioid crisis. In 2016, the death rate in Chicago was nearly four times higher than the national average; and Austin was one of the neighborhoods with the highest overdose rate from fentanyl.
One more long-term goal is for Loretto to resume delivering babies, something the hospital stopped doing about five years ago due in part to the skyrocketing cost of malpractice insurance, Miller said.
Pointing to a picture of a homeless woman, the longtime hospital executive said, "we have to treat this woman the same as the president of the United States."
"We have to speak truth to power. . . . Someone has to stand up and say, 'This is not right, we're not going to let this continue.'"