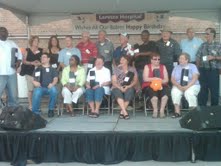 Loretto Hospital hosted a birthday celebration last weekend for 30-some people who started their lives at the Austin facility.
Jim Carlson said he came to the event because "I owe my life to this hospital and its staff."
Born in 1958 at just 2 pounds, Carlson said the hospital nursed him to health: "Due to the dedication and love of the staff at Loretto, I am here today."
Thomas Frank, 71, may have been the "oldest baby" in attendance. When he was born in 1938, the facility was known by a different name: the Frances E. Willard Hospital.
"It feels great to see that the hospital is still standing and serving the people of Austin," said Frank, who now lives in LaGrange Park.
"I've seen Loretto through many stages," he said. "I'm very impressed with the latest changes at the hospital."
Those changes in the last year include adding the Kimberly A. Lightford Emergency Department, which features new technology and monitoring equipment. The emergency department is named in honor of state Sen. Lightford, who helped secure funding for the hospital. Loretto is also in the process of renovating its trauma rooms and installing new technology throughout the hospital.
Lenita Ford was identified as the youngest Loretto baby at Saturday's event. She was born in 1978 and still lives in Austin.
Ford said she may have been one of the last babies born at Loretto – the hospital stopped delivering babies in the early 1980s because of rising costs.
"It's amazing to see this hospital still functioning after all these years," said Ford. "Loretto has a history in Austin, and that history is being told here at this event."
The hospital heard from about 130 people born there, each of whom was invited to the birthday celebration. Many contacted the hospital after seeing the event advertised on the side of the hospital, which sits at Central Avenue and the Eisenhower Expressway.
"We are on a mission to reconnect with our babies, and hopefully, they can help us continually improve the hospital," said Loretto Treasurer Michelle Collins. "We were the safe landing for these babies when they arrived on earth. That's significant."
Camille Lilly, vice president of external affairs and development at Loretto and a new state representative, said the hospital has a lot to show off and wants to make sure it stays connected to Austin.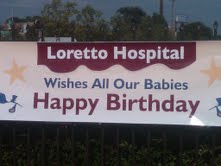 "Hopefully, this event will inspire many of our babies to return to the community and help make many things possible for Loretto," Lilly said. "We look forward to staying strong in the Austin community for 100 more years."
The celebration included food, music, carnival games and a raffle that gave away a 32-inch plasma flat-screen television. The event also featured performances by Jesse White's Tumblers and a performance by Quick Change Artists David and Dania, featured on Oprah and America's Got Talent. A tour of the hospital was also given to show off its latest additions and renovations.
austintalks.org@gmail.com