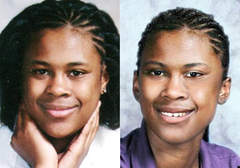 Ten years ago this week, 15-year-0ld Yasmin Acree disappeared from her Austin home.
Acree's family held a vigil Tuesday night to remember the teen, just as they have every year.
The family is still upset that the Chicago Police Department initially treated Yasmin's disappearance as a runaway as opposed to a possible abduction.
A 2011 Chicago Tribune investigation revealed a neighbor may have information about Yasmin's disappearance. But no arrests have been made.
The family still holds out hope they will determine what happened to Yasmin, who was remembered this week as a good student with a wonderful personality.
Over the last decade, AustinTalks has covered the case, including when the reward was increased to $10,000, when Rev. Acree of Friendship Baptist Church put the spotlight on how the media covers missing black children and when the family came to the conclusion that Yasmin is likely dead.