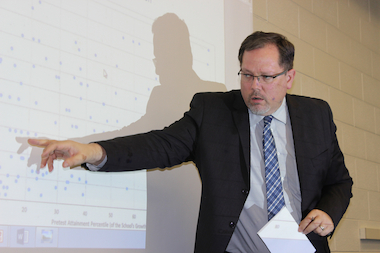 Randel Josserand will talk Sunday morning at an Austin church about his plans for the future of public schools on the West Side.
Josserand, chief of schools for Chicago Public Schools in the Austin and Belmont Cragin neighborhoods, will speak at 10 a.m. Jan. 14 at Third Unitarian Church, 301 N. Mayfield
Brenetta Howell Barrett, a member of Third Unitarian, will speak at 11 a.m. on lessons she learned from the civil rights movement. Barrett is president and CEO of Pathfinders Preventions Education Fund, and founder of African American Women for Access and Reproductive Education. She was a member of former Gov. Dan Walker's cabinet, co-founder of Chicago's Westside NAACP branch and former Mayor Harold Washington's Commissioner of Consumer Services
For more information, call (773) 626-9385.