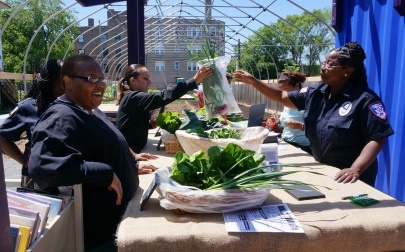 For the seventh year, the PCC Austin Farm Stand will be selling low-priced, organically grown produce in Austin, starting next week.
The fresh vegetables are harvested locally from the PCC Austin Farm. Beginning June 6, visitors can choose among a variety of seasonal items, including lettuce, scallions, garlic, kale, and mustard and collard greens.
This summer, the farm stand will be open every Tuesday from 12 to 5 p.m., as well as the third Saturday of each month from 10 a.m. to 1 p.m. until October 25.
Located at 330 N. Lotus Ave., the stand accepts various payment methods, including cash, credit/debit, LINK, Senior Farmers' Market Nutrition Program vouchers, and Women, Infants and Children (WIC) farmers' market coupons. Double value incentives are available for LINK and WIC purchases.
In partnership with the Chicago Botanic Garden, PCC Community Wellness Center  established the PCC Austin Farm and Farm Stand in 2015 to increase access to fresh produce for Austin residents.
PCC hopes that Austin residents will eat more fruits and vegetables, improving their overall health and reducing the risk for chronic conditions such as diabetes and high blood pressure.
The farm is situated across from PCC Austin Family Health Center, which provides primary care and integrated behavioral health and oral health care, among other services.
To help Austin residents increase their fruit and vegetable intake, the farm stand offers healthy recipes that use ingredients from the farm. Free children's books also are available for customers and visitors.
"Spring has sprung, and the PCC Austin Farm has kicked off another busy season hosting various events, including three farming workshops, an On the Table conversation, Lions Club volunteers, and a holistic Women and Herbs self-care workshop," says Lucy Flores, community outreach health education manager.
"The work we do at the farm is so important and amazing; it nurtures families and our community in many ways."