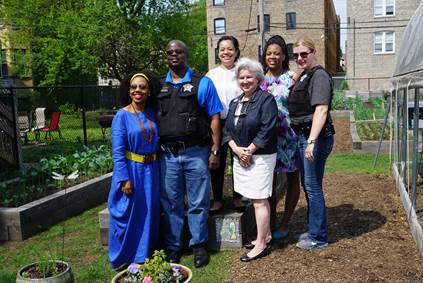 PCC Community Wellness Center participated in "On the Table," an annual forum designed by The Chicago Community Trust to elevate civic conversation, foster new relationships and inspire collaborative action across the region.
Last week, PCC hosted "On the Table" at its community farm, the PCC Austin Farm, located at 330 N. Lotus Ave. The event included conversations surrounding the definition of community and perspectives on poverty.
"The small group created space for an intimate conversation between various stakeholders like the Chicago Police Department, New Moms and Communities First Association," said Lucy Flores, community outreach and health education manager.
Flores and Resheeda Graham Washington, executive director of Communities First Association, hosted and guided group conversations to inspire positive change during the May 16th, one of several such events held in Austin that day.
"We hosted the event at our farm because we wanted to share the wonderful community space where we focus our efforts and serve. It was a beautiful day to share with our community partners," Flores said.
The PCC Austin Farm is a destination where neighbors, patients and staff share knowledge, space and resources. During our "On the Table" conversations, we were able to exchange knowledge about the community and extend our resources, Flores said.