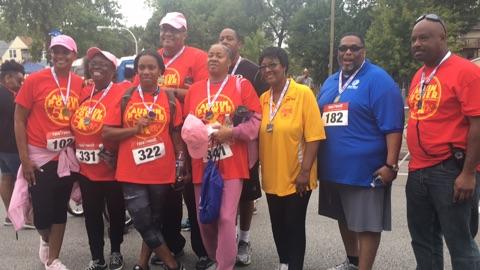 More than 200 people participated in the second annual Austin P.O.W.E.R. 5K walk/run that highlights various community organizations and local businesses.
The event, started by Stacia and Malcolm Crawford, who operate Sonkofa Cultural Arts Center and also head Austin's African American Business Networking Association. They worked with other local business owners, faith-based groups and residents who wanted to change the narrative of what's happening in Austin.
"The event was a huge success. It was so great to see families out there participating," Stacia Crawford said. "To see mothers pushing babies and strollers and the elderly out there walking for a cause felt amazing."
Participant Aaron Mree said, "It's good to see people getting involved with the community; you have public officials, police officers, and local business all coming together. Events like this allow us to come together to be positive and have fun," added the representative from Word Business Chicago.
Saturday's event helped bring attention to Austin's "Soul City Corridor," a hub being developed on Chicago Avenue from Central to Austin for black businesses and entertainment. Businesses already operating there include Bitoy's Sweet Treats, Bitoy's Bistro, Gone Again Travel and Turn Back the Hands of Time Antique Shop.
"Events like The Austin P.O.W.E.R. 5K are very important to the community," Ald. Emma Mitts (37th) said. "Not only do they unite the community, but it also addresses health issues faced by African-American communities by encouraging people to get up and get active."
Mitts met participants at the finish line in the 5800 block of Chicago Avenue, where she handed each finisher a medal.
It was a day of fun and fitness whether you were participating or cheering on the walkers and runners.
"I am here to support all the black businesses in the community," said Albertine Alexander, a resident of Proviso. "This (race) brings people in the community closer, helping you we have to work with each other to create a better community."
After the walk ended a "marketplace festival" kicked off, featuring dozens of local businesses and community organizations. Renowned jazz artist and Austin's own D-Erania also performed.
"We are here together united to bring economic development to our community," said Ald. Chris Taliaferro (29th), who completed the walk with several of his staff members, the Austin Weekly News reported.
Taliaferro thanked the Austin African American Business Networking Association,  HOPE Community Development Corp., Chicago CAPS and Chicago Park District for their support of the event. Part of the proceeds from the 5K walk will go to the CAPS Chicago Police Explorers program, which teaches local youth about the police department.