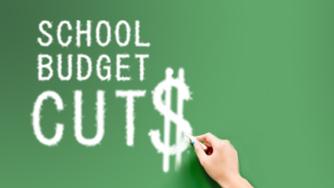 Austin schools are set to lose a combined $3.3 million in funding in 2016-2017.
Principals are scrambling to meet a July 22nd deadline for their local school councils to approve the details of their budgets now that CPS has released school-by-school budget info. The information is getting to principals months later than normal because of the budget crisis that continues to cripple state government.
Of the 32 Network 3 schools, many of which are located in Austin, all but a handful recorded a loss in funding when compared to last year's adjusted budget, which schools received in February when CPS was forced to make its latest round of cuts.
With salaries being the largest part of a school's budget,  some West Side teachers and staff are expected to be laid off before school begins Sept. 6th.
Steven Fouts, a mathematics teacher at Douglass High School, said the $217,474 cuts projected next year for Douglass amount to about two full-time teacher salaries. The years-long decline in the number of students is expected to continue at Douglass, 543 N. Waller Ave.; district officials predict enrollment will drop from 234 students to 204.
Fouts worries that less funding will hurt students, though CPS officials have insisted classrooms will be spared, according to the Chicago Sun-Times.
"When you cut school funding it makes it harder to build stability with students," Fouts said. "You have to build long-term relationships with these students, but when funding isn't there it's not consistent."
With cuts of this magnitude, it's hard to build the necessary support system for students, he said.
That view was underscored in a recent Atlantic magazine story: "Deeply strained budgets fueled by declining enrollment hurt staffing levels, teacher retention and programming."
"No one is choosing to go to neighborhood schools, just look at Douglass; the numbers are down," said Andrew Born, director of programs and development at Austin Coming Together. "The money follows the students, but that wasn't always the case."
It has been three years since CPS switched to its per-pupil budget, and it appears schools are starting to feel the effects of that change.
The Chicago Sun-Times reports that the per-pupil rates are lower than a year ago – $4,373 for children in kindergarten through 3rd grade, $4,078 for 4th to 8th graders, and $5,068 for high school students.
Only seven schools in Austin – including Michele Clark High School and Ellington Elementary – are projected to have more students this coming school year – and more funding than last year.
And one school – Voise Academy – will see an increase because its absorbing Austin Business and Entrepreneurship Academy and Austin Polytechnical High School as part of a community-backed effort bring all three together.
Dwayne Truss, a longtime Austin resident and activist, said students will be hurt if the district keeps getting less funding money and the district continues to close schools.
Still, he's remains optimistic, saying, "Schools in the Austin community will survive."
Here is budget information by school:
Brunson
FY 16 Enrollment: 527
FY 17 Enrollment: 501
Percent Change: -4.9%
FY 16 Annualized Budget: $3,681,009
FY 17 Budget: $3,549,831
Change: -$131,178
Clark HS
FY 16 Enrollment: 524
FY 17 Enrollment: 557
Percent Change: 6.3%
FY 16 Annualized Budget: $4,478,306
FY 17 Budget: $4,617,158
Change: $138,852
DePriest
FY 16 Enrollment: 612
FY 17 Enrollment: 610
Percent Change: -0.3%
FY 16 Annualized Budget: $4,928,607
FY 17 Budget: $4,903,091
Change: -$25,515
Douglass HS
FY 16 Enrollment: 234
FY 17 Enrollment: 204
Percent Change: -12.8%
FY 16 Annualized Budget: $2,447,037
FY 17 Budget: $2,229,413
Change: -$217,624
Ellington
FY 16 Enrollment: 611
FY 17 Enrollment: 618
Percent Change: 1.1%
FY 16 Annualized Budget: $5,148,996
FY 17 Budget: $5,169,470
Change: $20,474
Foreman HS
FY 16 Enrollment: 1045
FY 17 Enrollment: 861
Percent Change: -17.6%
FY 16 Annualized Budget: $10,074,319
FY 17 Budget: $8,925,892
Change: -$1,148,428
Hay
FY 16 Enrollment: 397
FY 17 Enrollment: 378
Percent Change: -4.8%
FY 16 Annualized Budget: $2,850,568
FY 17 Budget: $2,737,843
Change: -$112,725
Leland
FY 16 Enrollment: 529
FY 17 Enrollment: 515
Percent Change: -2.6%
FY 16 Annualized Budget: $4,448,278
FY 17 Budget: $4,448,627
Change: $348
Lovett
FY 16 Enrollment: 373
FY 17 Enrollment: 352
Percent Change: -5.6%
FY 16 Annualized Budget: $2,736,825
FY 17 Budget: $2,683,366
Change: -$53,459
McNair – AUSL
FY 16 Enrollment: 396
FY 17 Enrollment: 412
Percent Change: 4.0%
FY 16 Annualized Budget: $2,779,703
FY 17 Budget: $2,892,201
Change: $112,498
Melody
FY 16 Enrollment: 470
FY 17 Enrollment: 438
Percent Change: -6.8%
FY 16 Annualized Budget: $3,622,934
FY 17 Budget: $3,413,439
Change: -$209,495
Nash
FY 16 Enrollment: 301
FY 17 Enrollment: 282
Percent Change: -6.3%
FY 16 Annualized Budget: $2,196,051
FY 17 Budget: $2,043,658
Change: -$152,392
Northwest
FY 16 Enrollment: 572
FY 17 Enrollment: 546
Percent Change: -4.5%
FY 16 Annualized Budget: $4,077,635
FY 17 Budget: $3,967,105
Change: -$110,530
Prosser HS
FY 16 Enrollment: 1455
FY 17 Enrollment: 1398
Percent Change: -3.9%
FY 16 Annualized Budget: $11,490,557
FY 17 Budget: $11,142,946
Change: -$347,611
Sayre
FY 16 Enrollment: 444
FY 17 Enrollment: 422
Percent Change: -5.0%
FY 16 Annualized Budget: $3,004,250
FY 17 Budget: $2,927,968
Change: -$76,283
Spencer
FY 16 Enrollment: 699
FY 17 Enrollment: 662
Percent Change: -5.3%
FY 16 Annualized Budget: $5,451,016
FY 17 Budget: $5,269,563
Change: -$181,453
Steinmetz HS
FY 16 Enrollment: 1545
FY 17 Enrollment: 1355
Percent Change: -12.3%
FY 16 Annualized Budget: $13,347,128
FY 17 Budget: $12,308,010
Change: -$1,039,118
Voise HS (includes Austin Business and Entrepreneurship and Austin Polytechnical)

FY 16 Enrollment: 195
FY 17 Enrollment: 359
Percent Change: 84.1%
FY 16 Annualized Budget: $1,574,188
FY 17 Budget: $2,636,358
Change: $1,062,171
Young ES
FY 16 Enrollment: 907
FY 17 Enrollment: 842
Percent Change: -7.2%
FY 16 Annualized Budget: $6,846,064
FY 17 Budget: $6,530,414
Change: -$315,651
Catalyst Circle Rock (Charter)
FY 16 Enrollment: 521
FY 17 Enrollment: 516
Percent Change: -1.0%
FY 16 Annualized Budget: $3,822,025
FY 17 Budget: $3,719,519
Change: -$102,506
Plato (Charter)
FY 16 Enrollment: 497
FY 17 Enrollment: 503
Percent Change: 1.2%
FY 16 Annualized Budget: $3,515,711
FY 17 Budget: $3,448,053
Change: -$67,658