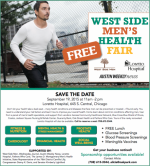 On Saturday, Sept. 19, the West Side Men will hold its second annual men's health fair from 11 a.m. to 2 p.m. at Loretto Hospital.
The event will include:
a free lunch
glucose screenings
blood pressure screening
prostate cancer screening
meningitis vaccines
Don't let your health take a back seat – many health conditions and diseases that face men can be prevented or treated – if found early.
Come learn about common conditions affecting men, while you hear from a panel of men's health specialists and vendors, including Access Community Healthcare Network, Blue Cross Blue Shield of Illinois, Costco,Jackson Square Nursing & Rehab Center, Guaranty Bank, Oak Street Health and Fathers Who Care.
Learn about:
fitness and nutrition
cardiology  with Dr. Aziz Ahmed, a cardiologist at Loretto Hospital
mental health and stress management
financial health with Ron Milner, founder and President of Goboodle.com, a financial members-only website dedicated to helping ordinary people learn how to create, manage and grow their own mutual fund portfolios.
social well being
Tours of the newly renovated Loretto Hospital will also be available. Click here to see pictures learn more about last year's men's heath fair.
Seats are limited, so an RSVP is required. Call Alicia at (708) 613-3344 or email her at alicia@oakpark.com.