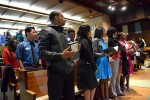 Twenty-four college-bound West Side students were honored Sunday by Third Unitarian Church as it gave away thousands of dollars in scholarships.

Since 1974, the church has raised money year-round to provide 10 to 25 scholarships to graduating high school seniors in the Austin community.
This year, $30,000 was raised — the most in the program's 41-year history, longtime scholarship committee chairwoman Roberta Wilson said.
There was high praise during the May 31st church service for the students' accomplishments and optimism about the future of the Austin community.
"Third Unitarian Church cares deeply about the Austin community, and for the last 41 years has expressed that care through investing in Austin's young people," said Rev. Jennifer Nordstrom.
"We do this because we believe in this community, and believe that creating opportunities for its young people to learn will open the door to their future and to the future of the community and this world," Nordstrom said.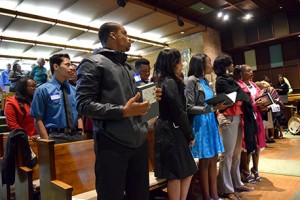 Some of the recipients were on hand Sunday to take part in the celebration honoring their achievement.

Recent VOISE Academy High School graduate Briana Staley, who plans to attend Northern Illinois University to study psychology, said the scholarship is a help for those in the community who need the extra money to offset the costs of attending college.
"I feel like it helps some of the parents because not every parent can afford to send their child to college," Staley said.

She plans to use her $1,000 scholarship to help pay for room and board, tuition and books.
Also in attendance Sunday were past scholarship winners.

Toni Robertson graduated from Austin High School in 1985 before going on to earn her education degree from Northern Illinois University. She's taught for CPS the past 23 years and is currently teaching at Agassiz Elementary School, 2851 N. Seminary Ave.
"At the time, (the then-$500 scholarship) was a benefit because I came from a family where we didn't have money, so without grants and scholarships I probably wouldn't have been able to attend school," Robertson said.
"So it's very important to have that little extra to help you in pursuing higher education. Yeah, it's very important."
Robertson said the ceremony Sunday has encouraged her to want to donate $1,000 each year to help out other students in Austin.
As the scholarship fund continues to grow year after year, Wilson said she would like to eventually see 100 students get a scholarship.
For Wilson, who experienced firsthand the difficulties of earning a college degree, it's all about giving back to the community.
"My role is to help someone on the wayside, and especially in the Austin community," Wilson said. "I live here, and I love it. I've enjoyed working for the kids.
"And if anybody has any money they don't know what to do with — up under the bed, up under the rug, in the closet — all they have to do is make a check out to Third Unitarian Church (for) scholarships, scholarships, scholarships."
Nordstrom gave the students some parting advice as they set off to college: "Nelson Mandela said education is the most powerful weapon that you can use to change the world. So, young people, go out and get that weapon of justice, bring it home, change the world."
Here's a list of this year's scholarship recipients and the high schools they attended:
Tenilla Amerine (John Marshall)

Jessica Bailey (Providence St. Mel)

Mariah Byrd (Providence St. Mel)

Tierra Carr (Michele Clark)

Melany Castillo (Juarez)

Eric Conley (John Marshall)

Ashley Craig (Rowe Clark)

Terranika Davis (North Lawndale College Prep)

Sophie Delgado (Kelvyn Park)

Adina Harris (Providence St. Mel)

Morgan Hawthorne (Whitney Young)

Brita Holmlund (Westinghouse)

Kenneth Hoover (Westinghouse)

Rakiya Hunt (Ogden International)

Jairo Javier (Juarez)

Megan Jefferson (John Marshall)

Lafayette McGary Jr. (Chicago Hope Academy)

Ronald Merritt (Prosser)

Mark Minor (Loyola Academy)

Tony Newman (John Marshall)

Alexander Rodriguez (Kelvyn Park)

Briana Staley (VOISE Academy)

Crystal Williams (Providence St. Mel)

Kelvin Williams (John Marshall)