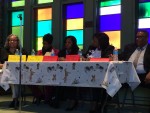 For a second time since a runoff election was called, candidates vying for the 29th and 37th ward seats shared their goals at the League of Women Voters forum on Saturday.
The forum, held at Third Unitarian Church at 301 N. Mayfield, hosted Ald. Emma Mitts (37th) and her opponent Tara Stamps, as well as Ald. Deborah Graham (29th) and challenger Chris Taliaferro.
Things remained civil at Saturday's forum, aside from the moderator having to repeatedly scold audience members about holding their applause until after every candidate had answered a question. Stamps, a CPS teacher, and Mitts appeared to have brought cheerleaders who hollered after each answer they gave.
The questions – several submitted by audience members – included topics like transparency, red-light cameras, the candidates' willingness to renegotiate taxes, affordable housing and who each was supporting in the April 7 mayoral election.
Things briefly heated up between Graham and Taliaferro, a police sergeant who owns a law firm. The exchange started when Taliaferro said Graham did not take action that she should have against red-light cameras – some of which Mayor Rahm Emanuel ordered removed last week.
Graham said she never voted on any red-light camera proposals, then turned the tables by touching on earlier comments Taliaferro made about a rising crime rate in the neighborhood.
"When he talks about crime … he's a direct sergeant to a number of police officers. What has he done to reduce crime?" Graham asked.
Then, raising her voice for the first time during the forum, Graham said, "My opponent doesn't know this community. As a matter of fact, who is Taliaferro? Nobody knows."
Taliaferro used part of the next question on Tax Increment Financing (TIF) to rebut, saying he "walks the alleys" and sees "our sons and daughters die" every day. He ended with a sarcastic jab about the alderman's comment on his alleged unfamiliarity.
"No one knows me. That's why we're in a runoff," Taliaferro said.
Graham spent her entire answer for the TIF question swinging back at Taliaferro by reiterating the points she made earlier.
The exchange ended after it was Stamps' turn to answer the TIF question. She used part of her response to say, "We black folks must resist the temptation to target each other."
"This is not a popularity contest," Stamps said before continuing with her response.
In general, candidates didn't stray from their usual responses to questions they've been asked countless times since the beginning of the campaigning season.
In terms of transparency, Taliaferro and Stamps said their offices will be community driven and that their books will be open to the public. Stamps said she wants residents to take civic engagement classes so they fully understand how money should be spent.
Mitts said she would continue holding Monday ward nights and hold monthly community meetings. Graham cited her accomplishments in office before briefly addressing transparency and saying she's "not perfect; no one here is perfect." She added she cannot make a different in the community on her own and wants people to approach her office with all concerns.
Audience members seemed most engaged by a question asking whether the candidates would be willing to renegotiate city fees and taxes if elected – the same question that started the heated exchange between 29th Ward candidates Graham and Taliaferro.
Mitts said she is willing to sit down with the community about any piece of legislation but reminded the audience that "if you want to take something out, you have to replace it." Calling current tax rates "regressive," Stamps said she would be willing to rethink the numbers.
"It's amazing that we have to find money, but we can give millions and millions to DePaul for a new arena," Stamps said. "They not even a winning team."
The four openly expressed concern over the city's and Chicago Public Schools' bond rating.
Both Mitts and Graham brought up the idea of the LaSalle Street Tax, or a tax on sellers and buyers of futures, future options and securities option contracts traded through the Chicago Mercantile Exchange and Chicago Board Options Exchange.
Mitts said she'd support it if her constituents overwhelmingly wanted it, while Graham said it remains on her table. Pension obligations, Graham added, need to be worked on before anything.
While Taliaferro didn't completely oppose the tax, he said the city shouldn't be taxing on every share sold through the exchanges. He emphasized thinking of a "creative" way to bringing the city out of its historically bad financial situation but didn't specify a plan.
Stamps said the underlying problem with CPS's overall financial situation is that it doesn't have an elected school board – something the 37th Ward candidate, who has heavy backing from the Chicago Teachers Union, she vowed to push for.
In their closing statements, the same mantra was heard: the potential newcomers promised change in what they described as a community in trouble, while Graham and Mitts – who together have served 20 years in the Chicago City Council – said they're not ready to give up their spots because more work needs to be done.