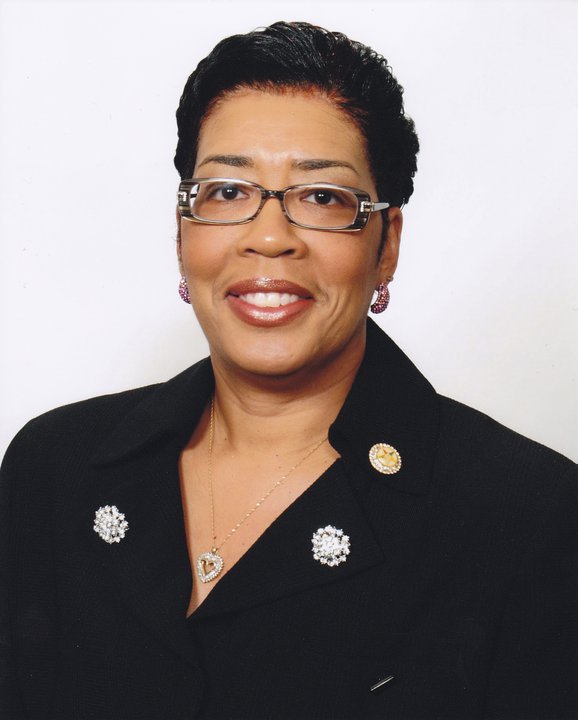 It's been hard to find Ald. Emma Mitts at key moments these last few months of the 37th Ward aldermanic race, so how will that affect the outcome of Tuesday's municipal election? Perhaps not at all, political experts say.
The 15-year alderman, who is facing three challengers, was the only one missing from a West Side candidates forum held Jan. 29. It was announced she was dealing with an emergency involving a constituent. Sources told AustinTalks she had been at a local school event right before the forum.
About two weeks before that, Mitts was invited to debate candidate Tara Stamps, who's won the Chicago Teachers Union's endorsement. But she ignored the request, according to Stamps' spokeswoman Emma Tai. The alderman also didn't return calls to AustinTalks to discuss the matter.
In fact, Mitts has not responded to several calls from AustinTalks since November for comment on stories about the race, so it's not been possible to ask her about her record or discuss her vision for the next four years if she wins reelection. 

The Mitts campaign did, however, submit candidate questionnaires to the Chicago Sun-Times and Chicago Tribune, and the candidate did a short interview with Aldertrack, a website that provides aldermanic news.
The Sun-Times has endorsed the incumbent in hopes that she will vote with Mayor Rahm Emanuel when it comes time to make tough pension-related decisions, assuming she gets re-elected. The Chicago Tribune, however, threw its support behind Stamps.
The Sun-Times' support underscores one of the main critiques Mitts' challengers have hammered during the campaign – the alderman is nothing but a mayoral puppet who votes with him on most every issue.
But in the one interview Mitts had with AustinTalks in November, she asserted she works to represent her constituents and they're happy with her leadership.
Potential voters supported her in a recent poll.
The poll, conducted earlier this month by Ogden and Fry, showed 55 percent of the 365 respondents would vote for Mitts. Stamps came in second with 23 percent, while Maretta Brown-Miller, a Chicago Park District employee, got 13.2 percent. Seven percent of the respondents said they'd vote for former CAPS beat facilitator Leroy Duncan.
If no candidate gets at least 50 percent of the vote Tuesday and the race goes to a runoff, Stamps would be Mitts' challenger, the poll predicted.
Political analyst Dick Simpson said Mitts is in a strong position to win because she chairs a City Council committee (License and Consumer Protection). However, Stamps' CTU backing suggests the challenger may have a strong platform, Simpson said.
Stamps' campaign is certainly funded well; she's reporting receiving about $42,000 in donations from the CTU. That's about half of the approximately $84,000 Stamps' campaign finance records indicate she's received.
Mitts has a bit more in campaign cash. She reports raising about $92,000 since April 2011, according to campaign disclosure filings.
Of the nearly $5,000 Duncan has reported raising for his campaign, $4,200 is his own money. Brown-Miller — who unsuccessfully challenged Ald. Mitts four years ago — reports receiving no money this cycle.
Learn more about each candidate, in their own words, here:
Maretta Brown-Miller:
Brown-Miller said she's lived on the West Side for more than 30 years, giving her a very personal stake in this race.
"I'm a stakeholder in the community, so I've been through the changes, and I can see what we need to improve," Brown-Miller said.
This is the second time she's running for alderman. In 2011, she garnered 24 percent of the vote against Mitts' 59 percent. But she claims she never really stopped campaigning and has continued to feel out what residents wanted from a leader. One of those things, she said, is better communication and knowledge about what's happening in the neighborhoods.
If elected, Brown-Miller — an assistant to the director of legislative and community affairs at the Chicago Park District — said she wants to focus on improving communication. If that's achieved, Brown-Miller believes more people will be interested in advocating for what they want, helping make the West Side a bigger priority to city officials.
"Numbers make a difference," she said. "I would bring those numbers and our demands to the City Council."
Brown-Miller wondered out loud why there aren't cultural centers or a museum in the ward. These are things she wants to see, but the neighborhoods should be consulted first — something she insists is not happening now.
Austin should be like Oak Park or Forest Park, areas she said that residents flock to when they want to shop, eat or play. With some work, Brown-Miller said the West Side can become like those suburbs.
"I believe in this with every ounce of blood I've got, and I believe in my community," she said. "I believe I can do a doggone good job."
Leroy Duncan:
Duncan said he began campaigning for alderman in August, after people in the community encouraged him to run.
As a former CAPS beat facilitator, Duncan said he understands how to properly engage people and get them involved in helping the community. He thinks he's a standout candidate because he has a solid plan to implement if elected, and it begins with public safety.
Duncan wants to meet with the commanders of the Chicago Police Department's West Side districts to figure out how best to deter crime. The experience he's garnered with CAPS gives him a unique perspective on how to reduce violence in the ward's neighborhoods, he said.
It's also a priority for Duncan to get kids involved with community projects. If elected, he said he would meet with area principals to plan civic projects for their students.
But safety is certainly his No. 1 priority, Duncan said. Once the neighborhoods become more safe, more small businesses will want to set up shop, spurring economic growth.
Duncan, too, said he wants to keep the community informed. He previously told AustinTalks that he has been sending email blasts to people supporting his campaign, so they stay informed about issues in the area.
And none of that can be achieved unless West Side aldermen come together — which he promised to do if he gets office.
"What you have to do is stand up and fight for your community," Duncan said. You have to look at fellow councilman, and say, 'What can we do to together?'"
Ald. Emma Mitts:
Tara Stamps:
As a four-year resident of the West Side, Stamps said she understands that she hasn't lived in the area as long as her fellow candidates. But what's important is that she knows how to bring independent leadership to an area she believes has been largely ignored by the city, she said.
Stamps, a teacher at Jenner Elementary Academy of the Arts on the North Side, decided to run for alderman after the fight against school closings in 2012, she said in a recent interview.
She was harsh in her criticism of Ald. Mitts, who she has repeatedly accused of being a rubber stamp in City Council.
"Emma Mitts has been doing the bidding of the mayor since taking office nearly 15 years ago," Stamps said. "Neighbors deserve a representative to represent their interests and needs."
Stamps, who won the endorsement of the Chicago Tribune, said her teaching experience gives her a special perspective on what the community needs. She said she sees firsthand the issues at home some of her students must deal with that speak to larger problems: poverty, lack of grocery stores, low- or no-paying jobs and more.
She said she has activism in her blood – her mother is the late activist Marion Stamps.
Like Duncan, Stamps said her first priority would be to make the streets safer. She said the "safety piece is directly tied to jobs and unemployment" in Austin.
One good way to combat crime is to revitalize the CAPS program, which she said first when asked how she would help bolster public safety. She also said it's important to find opportunities for those just out of jail so they don't get lost on the streets.
Education is a close second. Stamps said she wants to put a moratorium on all charter schools and invest in neighborhood institutions.
Finally, getting the community involved is critical, Stamps said. She said she'd consider establishing civic education classes to teach residents about their rights and what they deserve in the community. This way, more people can support what they want from City Council, giving the West Side a stronger voice for city officials to hear.
"We cannot continue to go unnoticed," Stamps said. "That is unfortunately what our current alderman has allowed it to be. I would advocate very strongly."