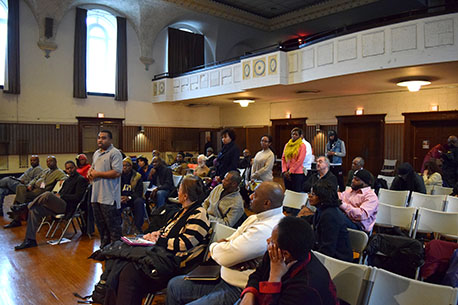 Dozens of people turned out for West Side unity town hall Saturday at the Austin Town Hall, 5610 W. Lake St, moderated in part by state Rep. La Shawn K. Ford (D-Chicago) and state Sen. Kimberly A. Lightford (D-Westchester).
While the overall theme of the meeting was building better communication between West Side residents and the politicians, businesses and community groups that represent them, the three-hour-long meeting was interrupted multiple times by several residents, and one of the panel members, who were clearly unhappy with the area's current state of affairs.
One of the most contentious topics of the day was the issue of $425 million that was secured by the Illinois Legislative Black Caucus in 2009, a figure Lightford said has grown to around $600 million now.
Some of money has been spent on community services, Lightford said. But the problem with getting the bulk of the money out is more support is needed from members of the Illinois General Assembly to decide how to spend the money, Lightford said.
Thirty votes are needed in the Illinois Senate, while 60 are needed in the Illinois House. Then the governor's approval is needed.
"We have 10 Black Caucus members, which means we have to convince 20 more members who don't look like us, who don't don't think like us, who don't live like us to go with our initiative," Lightford said.
The issue touched off a heated debate between Lightford and panelist Mark Carter, a community activist with One Chicago, with Carter at one point telling the state lawmakers she works for him as an elected official, to which Lightford responded with, "I don't work for you."
Carter blamed "a lack of cohesiveness" on the part of black leadership for not getting the money into the community. West Side residents need to "take back what's being controlled by others and what has been given away by black leadership," Carter said.
Getting members of the community involved in the legislative process is crucial moving forward, Ford said.
"Elected officials are only as good as the people who elect them," Ford said. "The purpose of today's meeting is to tell you we need your help.
"The question is: are we going to unite? I don't care about what happened last year. This is a new year, a new opportunity," Ford said.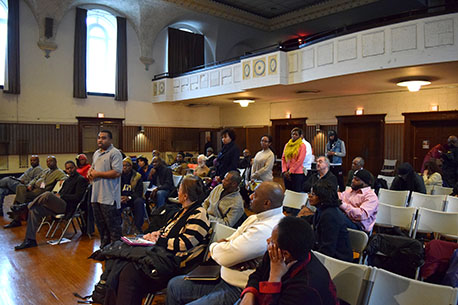 Members of the panel and the community also expressed concern over job creation on the West Side.
A new school being built at Laramie Avenue and Lake Street could provide much needed jobs in the community for skilled union workers. Apprenticeship programs are available in the community through Austin Peoples Action Center, Lightford said.
However, some private business owners and contractors are having a hard time hiring due to payments that are not being received or unions not honoring training being offered by outside agencies.
Saturday's town hall gave some residents an opportunity to voice their concerns about the lack of jobs, an issue of particular concern to ex-offenders.
"It's really hard to get corporations to hire ex-offenders," Lightford said. "One of the things we also did in the legislature was we gave companies a voucher that if they hire an ex-offender they get a tax break at the end of the year."
There's also a state program to give ex-offenders micro-loans to start their own businesses, Ford said.
Carter agreed having more businesses in the community owned by local residents should be a priority.
"Yes, it is hard to get corporations to hire ex-offenders, but it shouldn't be hard for us to start our own businesses so we can hire our own people," he said.
One thing most everyone at the meeting seemed to agree on was the need for better communication between the various groups that make up the community, including the relationship with law enforcement.
A
recent bill
passed by the Illinois General Assembly added more confusion as to what a citizen's rights are when it comes to recording police officers.
During the meeting, Ford apologized for voting for the bill that some media outlets have reported makes the penalties stiffer for recording police in public spaces.
But after the meeting Ford said he looked through the bill again and found the penalties – which include a Class-3 felony for repeat offenders of what would be considered recording where a reasonable expectation of privacy exists – to be consistent with past privacy laws passed in Illinois.
Ford said he will work to repeal the law if it became necessary. Lightford voted against the bill.
Even though the meeting was at times chaotic and highlighted some of the conflict within the community, Leona Thomas, owner of Thomas Mechanical Corp., said she felt it was good to get those feelings out in the open.
"I think the butting of heads probably comes out of frustration, but I think it's good," Thomas said. "It shows people have different ideas, and in order sometimes to make change, you have to listen to different points of view."
The next town hall is tentatively scheduled for Feb. 14 from 10 a.m. to 12 p.m. at Austin Town Hall.
Co-hosts of the event included The West Side Parent Political University, Fathers Who Care, Wiley Resource Center, Chicago West Side branch of the NAACP and West Garfield Park Community.