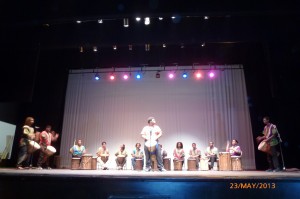 The Harold Washington Cultural Center was abuzz last week with the sounds of close to 400 teens dressed in everything from traditional African and Latin American garb to matching black t-shirts and jeans.
The teens are part of a series of programs across the city put together through the nonprofit After School Matters, which hosts an annual showcase at the end of each school year.
Reggie Evans, a sophomore at Douglass Douglass Academy High School, displayed his African drumming skills along with 14 other students from surrounding high schools.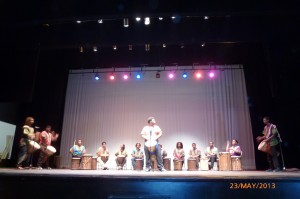 But acumen with the djembe drum isn't the only skill students like Reggie are developing through their time in the program.
Being part of the West African drumming program for the past year helped him get over stage fright and taught him how to perform in front of people, he said.
Reggie also developed leadership skills from watching his instructor Michael Taylor, known to the kids simply as "Taylor."
Because of Taylor's example, Evans is able to teach drumming skills to new students that come into the group, Reggie said.
He recently led the West African drumming group at a school assembly when Taylor couldn't make it at the last minute.
He doesn't get nervous anymore – the group even performed at the House of Blues a week before the After School Matters showcase.
The program has also helped keep participating students off the streets – and out of gangs.
Mariona Graham ("like the cracker," she said) is part of the Douglass group, although she attends George Westinghouse College Prep in nearby East Garfield Park.
Mariona's school sits in the middle of two areas where violence sometimes breaks out on school grounds even with a police presence, she said.
"It's sort of safe, but you never know. I feel scared sometimes walking home," said Mariona.
She said the program gives her somewhere to go to avoid being attracted to violence or gangs.
Graham also plays snares and bass at her school on the two days a week she doesn't have After School Matters – and she knows how to fix drums.
In fact, that is the mission of the organization started by former First Lady Maggie Daley over 20 years ago. It strives to offer teens from the South and West Sides a place to go to explore and develop their talents.
Students from the Austin High School campus also performed a traditional African dance routine through their program "Move Me Soul." The other seven groups from area high schools performed spoken word acts against gun violence, Latin and Aztec dance routines, drum lines and tap dancing.
After School Matters offers paid internships and assistantships and is accepting applications for summer programs.
Check out some of the performances from last week's showcase: