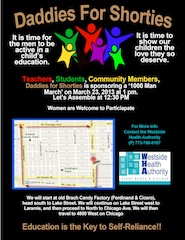 Steven McKinley had to wait 44 years to meet his father, something he did not want to happen to his daughters.
Because of his experience, McKinley, a volunteer at the Westside Health Authority, became a member of Daddies of Shorties – an organization that emphasizes the importance of male influence in a child's life and the community.
"It's a friendship I never had," said 47-year-old McKinley. "I don't want a child to go through what I went through."
McKinley, along with residents of over 15 different South and West Side neighborhoods, is marching next Saturday to help raise awareness about the importance of a male figure in a child's life.
The year-old organization is hosting its first walk March 23, dubbed Daddies with Shorties, that organizers hope will attract 1,000 community members.
Charles Perry, director of community organizing at the Westside Health Authority, needs more people to join.
"We have a commitment of 200 right now," said Perry. "We're way short of our goal of 1,000."
Kerry Owens, vice president of Daddies of Shorties, is optimistic the turnout will be great.
"From the feedback we got, I know the march will be tremendous," said Owens.
He said the group was formed to tackle concerns in the Austin community, such as the lack of jobs and to figure out a way to help their neighborhood. The group also realized they needed fathers to be more involved with their children, especially in school.
"Male participation was non-existent in the school," said Perry.
Owen said the name Daddies of Shorties was chosen to "give kids a better example as far as fatherhood and also to be more engaged in the community from a man's standpoint," he said.
Next Saturday, the group plans to spread its message of father involvement but urge all residents, not just men, to join.
Participants will gather at 12:30 p.m., and the march will begin at 1. It starts at Ferdinand Street and Cicero Avenue, the site of the old Brach's Candy factory, and will end at the Westside Health Authority building, 5417 W. Division St.
McKinley, who knew his father for three years before he passed away, said dads need to be more involved with their children, starting with the march.
"All fathers need to united with their kids," said McKinley. "They are the role models.