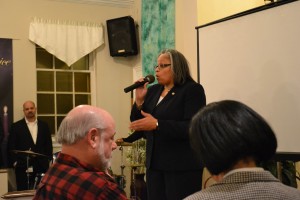 The ongoing fight over another pawn shop on North Avenue continued at a heated Galewood community meeting Tuesday night.
Ald. Deborah Graham (29th) called the meeting at the Galewood Community Church in response to an outpouring of community opposition to an EZ Pawn store just west of Narragansett Avenue.
Galewood resident Francine Salerno said the alderman has treated the Galewood community with "great disrespect" by not holding a meeting until now.
"You have shoved this down our throat, ignored us, made us immaterial," Salerno said.
Graham gave the residents her commitment, saying she will not approve any future local businesses before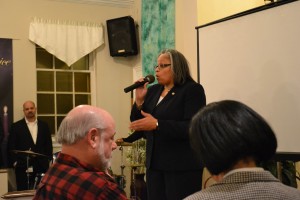 receiving community input.
"I am a community person just like you," Graham said. "I love my community just like you, and we can only move forward at this point."
In January, Chicago's Zoning Board of Appeals voted 3-1 to approve the EZ Pawn store to fill a vacant storefront in a strip mall next to Austin Bank of Chicago, 6400 W. North Ave.
EZ Pawn is set to be the fifth pawn shop clustered along North Avenue near Ridgeland and Hayes avenues.
The pawn shop is in Ald. Nicholas Sposato's 36th Ward, but it will be in Graham's turf once the new ward map, which was approved last year, takes full effect in 2015.
Sposato, who opposes the store, told AustinTalks after last month's zoning board's decision that he plans to appeal it.
The feisty residents, who say another pawn shop will have a negative impact on the community, often interrupted Graham and representatives from EZ Pawn and ABC Bank during the meeting.
Graham said she drafted an ordinance, with the help of Sposato, that will put a freeze on any more pawn shops in the area. The ordinance would not allow for special use permits, she added.
"We don't trust you," Donald Glover, the Galewood CAPS community liaison for police beat 2513, shouted at Graham.
Beth Chlumecky, another resident, asked Graham, "Has EZ Pawn made a contribution to your campaign?"
Graham said it has not. EZ Pawn did not comment in response to Chlumecky's question.
The alderman reports no contributions from EZ Pawn or EZCorp on the campaign finance reports she has filed since becoming alderman in March 2010.
Residents took jabs at the alderman, accusing her of going behind their backs when she wrote a letter of support to the city in July for a special permit for the pawn shop.
Graham said she spoke with Sposato several times and he was "completely aware" of her letter. But some people at the meeting shouted, "that's not true."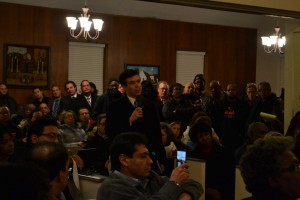 "You can't speak for Ald. Sposato when he and I talk at the City Council," she said. "You can't do that."
Graham said she is not an advocate for more pawn shops in the area. But she was persuaded to support EZ Pawn after ABC Bank approached her, saying it needed an anchor store, which has been vacant for five years, she said.
Graham said the bank told her it would be hard for a small business to fill the large space or to pay for remodeling, and EZ Pawn, which was in communication with the bank, could be appropriate for the site.
ABC Bank CEO Sam Scott said the bank has tried to rent out the space it owns for years, and the vacancy has been a "financial drain."
He said the bank appreciates the residents' concerns, but it doesn't necessarily share them.
"We don't think (EZ Pawn) is going to be a problem," Scott said, adding that the bank has "done the homework" and thought about it a lot.
The crowd often interrupted Scott, and a few people shouted out that they would take their money out of ABC Bank.
Oak Park resident Judith Alexander asked Graham if she would make a commitment to the community and not approve another special zoning permit going forward without talking to the community first.
"Moving forward we will join together to bring the kind of businesses we're looking for on North Avenue," Graham said. "You have my commitment "
Neal Wankoff, a member of the Galewood Residents Organization who blogs at Galewood.net, said there are over 7,000 houses in Galewood.
"Each one of us have made a financial commitment to this community," he said. "A fifth pawn shop will not improve the value of our home or improve it."
Tim Adams, midwest regional director for the publicly traded EZCorp, said the corporation is "stringently regulated" and it will be a responsible business operator.
Adams provided attendees with a list of commitments the company promises to adhere to, including not selling fire arms, keeping store video surveillance recordings for 90 days and not offering title loans or pay day loans, among other criteria.
Graham said she's putting in place a compliance committee to oversee the pawn shop.
She said the committee will be made up of representatives from the alderman and state Sen. Don Harmon's (39th) offices, Oak Park Police Department, Chicago Police Department, North Avenue Business Association, Mont Clare Chamber of Commerce, Cook County State's Attorney's Office, Oak Park Chamber of Commerce and a community member.
"I want to show you that the authorities who are familiar with those compliance issues will be there to make sure that the pawn shop operates in the way that they're committing to operate," Graham said.
The committee was news to Lee Owens, president of the North Avenue Business Association.
"The North Avenue Business Association has not been approached about taking part in any such groups and meetings nor has NABA committed to taking part in such groups and meetings," Owens said in a statement immediately following the meeting.