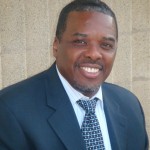 Austin Coming Together has a new executive director.
At the end of November, the Rev. Reginald Bachus of Friendship Baptist Church and former ACT board member replaced Amara Enyia, who led the group for 18 months.
He is the group's third executive director in its three-year history.
Bachus, who will remain pastor of Friendship Baptist Church, 5220 W. Jackson Blvd., said he wants to help develop a "positive story for Austin."
"At the end of the day, we want the conversation about Austin to be different," Bachus said.
ACT is a coalition of nonprofit organizations, residents and others working to improve the quality of life on the West Side.
Mildred Wiley, ACT's board president and senior director of government and community affairs at Bethel New Life, said Bachus was a great member of ACT's board. Bachus had served on the board since the group's launch in 2010.
With Enyia out and Bachus in, ACT will continue to focus on its core missions: education and economic development in Austin, Wiley said.
"We are looking at what Chicago Public Schools is going to be doing with our schools, and we want to assure that we bring in all the academic and social programs needed to support quality education in the Austin community," Wiley said.
The group will also continue its work with the Austin Manufacturing Innovation Park, a future campus dedicated to helping local manufacturers.
The park, which is in its exploratory phase, received some tax increment financing from the city of Chicago in November.
"We want to bring jobs to the Austin community," Wiley said. "We want this to be a place where people want to live."
When asked why Enyia resigned, Wiley said, "It was just time for a leadership change. She went on to pursue other opportunities. We wish her well."
Enyia, who has a law degree and a doctorate in education from the University of Illinois, said she plans to expand the scale and
scope of her work in Austin to other communities in Illinois and nearby cities in Indiana.
"I haven't lost any passion," she said. "I feel even more committed, even more focused on going into those most challenging communities and transforming them."
She said she doesn't want what was started in Austin to dissipate.
"I feel like we did start a movement," she said.
But she had some advice for ACT's Board of Directors.
"What the board will have to think about is how they will cultivate and nurture high-quality leadership and their openness to innovation, openness to do things that have never been done to get results we've never had in Austin," she said.
ACT's first executive director was Bachus' son of the same name, the Rev. Reggie Bachus, who left the position in spring 2011 to become pastor of Mt. Ollie Baptist Church in Brooklyn, N.Y.
"The Bachus brand is a very good brand," said Wiley. "The leadership that was brought to us by Reggie Bachus Jr. was great."
The senior Bachus said he would continue the work his son and others helped foster in Austin.
Wiley, who spoke for Bachus during an interview with AustinTalks, often answering questions posed to him, said a challenge he will face as ACT's new leader is gaining more philanthropic partners.
"This is not just an ACT challenge," Wiley said. "We have a new landscape in philanthropy, and we have to learn how to navigate that. I'm hoping that some of our major foundations will see us as an opportunity for them to have a direct impact on a community that has great potential."
The JPMorgan Chase Foundation has been one large source of funding for the group.
It decided to channel philanthropic investments into the community in 2009, leading to the official inception of ACT in 2010.
In 2010, the foundation gave $1 million in grants to groups working in Austin and about $2 million in 2011, Beverly Meek, who manages the foundation's efforts in Austin, told AustinTalks in January 2011.
It's not clear how much funding the foundation envisions giving ACT going forward, as Meek did not return requests for comment.
ACT's next general meeting will be held at By the Hand Club, 500 N. Laramie St., 9:30 a.m. Jan. 31.