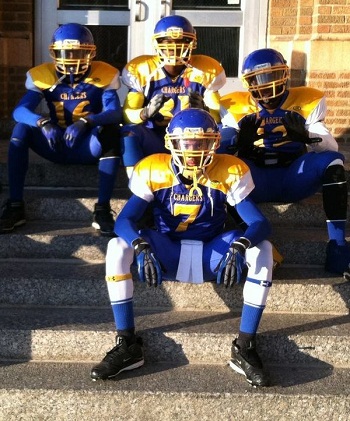 A football team and cheerleading squad, made up of mostly of underprivileged youth from single-parent homes in Austin, stood with Ald. Deborah Graham (29th) at the Columbus Park field house Sunday pleading for the community and others to help them attend an out-of-state championship game.
The Columbus Park Chicago Chargers ages 14-to-15 football team and 9-and-under cheerleading squad have been invited to compete in the United Youth Football National Championships in Tampa Bay, Fla., from Dec. 1 to 8. They are asking for help raising at least $25,000, which will cover transportation for 44, room and board, and meals for their eight-day trip.
The program is a nonprofit on the West Side that aims to give underprivileged youth alternatives to the violence and other destructible lures of the street.
Both the football team and cheer team currently rank No. 1 in Chicago and 3rd in the nation.
Coach Michael Willis said some of these children have never traveled out of state – some not even outside their own neighborhood – so this trip will not only give them a chance to have some fun, but show them the world has more to offer than their own block.
"Our kids have been working hard all year. There has been lots of hard work and dedication. [They] see enough of the everyday struggles," he said.
Some parents spoke of the positive influence the team and organization has had on their child. One mother asked for the community's assistance and said a trip like this will show the youth they have a purpose in life.
"This program is more than just football, it's saving lives. We're keeping them off the streets," she said.
Willis formed the team in 2006 for two main reasons. He wanted to share his love of football, and he wanted to offer underprivileged youth in the community alternatives. If the youth are experiencing problems at home, they feel comfortable enough to talk to Willis or other staff members, he said.
"Every day we see progress in our kids. We're like these kids' father figure because some come from single-parent homes," Willis said.
Last year, in five days, the Chicago Chargers raised enough funds to attend the national championship in New Orleans. This year they have a little more than two weeks to raise a minimum of $25,000.
Graham said she is proud of the coach and other staff who have supported and invested in the youth.
"Coach Willis has put time and effort into our gold mine," she said, referring to the children.
So far Willis has sent out 200 letters to businesses and people in the community asking for donations. He has reached out to places like State Farm and Smith and Thomas Funeral Home. Getting the media's attention is very important with the deadline quickly approaching, Willis said.
Graham said the team has been a positive influence for the youth because it helps them develop coping skills and teaches them how to work together, and she's confident they will raise the money in time. But she's asking the community to donate.
The cheerleaders said they are thrilled about the invitation to compete and hope they can go because they have never been to Florida.
"I'm really excited. We worked really hard on our dance routine," 7-year-old team captin A'Sean Coffey said. "I'm proud my family is proud of me."
Nine-year-old Antiana Woods, an honor-role student, said she cried when her squad won the regional competition. She was really excited and said being a cheerleader has has had a positive impact.
"Being a cheerleader with the Chicago Chargers helps my attitude, [helps me in] school, [helps with my] weight," she said.
The cheerleaders have to practice outdoors or in rotating homes because they could not reserve the Park District space in time. But even without a regular place to practice, the girls competed against nine other squads and won, Coach Denise Gilmore said.
Willis said he refuses to think negatively. He said they made it happen last year against all odds so they can do it again.
"Failure is not an option," he said.
Visit the Chicago Chargers Youth Program web site to donate.  All donations are tax deductible.