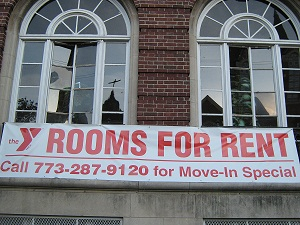 More than 60 Austin residents packed a small room at Original Providence Baptist Church, 515 N. Pine Ave., Monday to express their disdain for the YMCA of Metro Chicago for closing its only Austin location and to discuss a plan for action.
Earlier this month, the YMCA ended nearly 100 years of operations at its location at 501 N. Central Ave.; the facility opened in 1913.
"On Oct. 1, the Y said they are going to abandon this community," said Elce Redmond of the South Austin Coalition. "This is another example of the disinvestment from this community that corporations have done."
The YMCA plans to continue providing services at May Elementary Community Academy, 512 S. Laverne Ave., where it has been providing programs for 70 to 80 children every day, according to a YMCA news release.
Stephen Robinson, a member of the Northwest Austin Council, said he did not believe programs being offered at the school could replace what had been offered at the location on Central Avenue.
"They don't have a gym there. What they have is a multi-purpose room that is already used for other activities," Robinson said.
The YMCA also announced it was transferring ownership of the building to the Single Room Housing Assistance Corp., which will operate the 289 rooms the Y has been providing to low-income residents.
YMCA spokeswoman Jill McDonnell said Single Room Housing will continue to provide units "at a rate those residents can afford."
"We have a binding agreement with SRHAC, and we will be out by the end of the year," McDonnell said.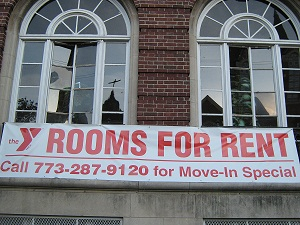 On Monday before the community meeting, a YMCA banner still hung across the front of the building advertising low rates.
Three-year resident Terrance Monroe said he had not noticed any changes in the staff or living situation at the YMCA, but did complain about the facility's cleanliness and said he had a problem with bedbugs at the location.
The Central Avenue location's closing was months in the making. The Austin Weekly News and Austin Talks both reported on the closure several weeks ago. Chicago Sun-Times columnist Mary Mitchell lamented the closing in a recent column.
But the news still hit the community hard.
The crowd on Monday was loud and angry. Many discussed the importance of the community center as a safe-haven for children to escape crime and gangs.
Austin resident Pamela Lester said she came to the meeting "to get some answers."
"We need a facility like this in our community," said Lester, who took dance classes at the YMCA when she was a child.
Monday's meeting was headed by Robinson, Redmond, the Rev. Ira Acree and the Rev. Marshall Hatch, and was attended by state Rep. La Shawn Ford (8th), state Rep. Camille Lilly (78th) and Ald. Deborah Graham (29th).
The purpose of the meeting was to "express the travesty" of the YMCA leaving Austin, Acree said.
He called the YMCA "dastardly" for abandoning a community "stricken with so much violence and plagued with so much high crime, (especially) considering they have historically been a bridge for the indigent and underserved.
"If the YMCA still is who they say they are, they will reopen," he added.
Last Friday, a coalition of community leaders, including Acree, Robinson, Graham and Ald. Jason C. Ervin (28th), went down to the YMCA's Chicago headquarters to meet with Metropolitan Chicago YMCA President Richard Malone and try to stop the closing of the Austin Y.
Graham called it a "heated" meeting and said they were told the decision was already final and nothing could be done.
Acree said they invited Malone to Monday's meeting so he could "explain to the community" why they were closing the YMCA. Hatch called it a "major disrespect" that he did not come.
"We asked them to justify what they're doing and they really couldn't do it," Hatch said.
YMCA officials said the Austin location closed because of dwindling membership and the prohibitive costs of upkeep on the nearly-100-year-old building. They said membership had decreased to 175 at the Austin location, but several of the meeting leaders called those figures false or misleading.
Graham said she and the rest of the community leaders offered to start a capital campaign for repairs or to boost membership.
"We told them we could quadruple their membership," Graham said.
But they said their offers were rejected.
Near the end of the meeting, Malone told the group "he didn't want to leave mortal enemies," Graham said, and the YMCA chief told them he would be open to finding a smaller, more cost-effective location for Austin.
"He brought that up as a possibility and basically said he would be open to it if we had the community support," Graham said. "We need more than one. Austin is a large community, and we have been talking about community centers. We don't want to have one taken away from us."
Graham and Hatch agreed the best option for Austin is to find a new community center location.
"If you're not going to invest in this building, you start … a capital campaign to build a new community center in Austin. You don't just discontinue the services that are needed in a community," Hatch said. "I mean they're really kicking us when we're down."
But Y spokeswoman McDonnell said there are no plans for a new location.
"We have no plans right now. But if the financial situation and support in the community changes, we would certainly be open to that," McDonnell said.
At the end of Monday's meeting the group agreed to meet again Thursday morning at 10 to stage a protest outside the YMCA headquarters at 11 a.m.
"What they said by not coming to this meeting is somehow we're going to have a little meeting and then we're going to go away," Hatch said.
The crowd roared back at him; they're not going anywhere.
For those wanting to participate in Thursday's mass community mobilization, meet at 10 a.m. at Providence Baptist Chuch, 515 N. Pine Ave. to take the bus to the YMCA's Downtown headquarters, 801 N. Dearborn Ave.