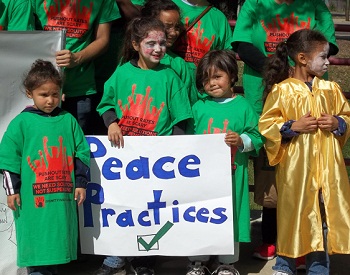 "Ghost graduates" and "Zombie strippers for the truth" took on nearly a mile-long march with parents and teachers Sept. 29 to speak out against the high rate of suspension at Chicago Public Schools.
Nearly 100 participated in the "Break the School-to-Prison Pipeline" event, which began at Crane High School, 2245 W. Jackson Blvd., and ended at the Cook County Juvenile Detention Center, 1100 S. Hamilton Ave.
The march marked the beginning of Dignity in Schools' 3rd annual National Week of Action on School Pushout, an event aimed to bring awareness to the harmful effects suspension can have on students.
"They should try to do any and everything to help a student stay in school and on track to graduate long before they send them to detention or send them home," Brittany Cannon, a 2011 Orr Academy graduate said.
Cannon said she was suspended several times and has had family members who were suspended, too. For her, getting pushed out caused her to feel alienated, and for a while she stopped caring about school, she said.
"I started hanging around the wrong crowd. I started hanging around drug dealers and all types of people I wouldn't surround myself with in school," she said.
"At first, I wanted to go back to school, but after being out long enough I got used to it, and that's not how you're supposed to feel."
Cannon said students who are suspended usually want to come back in the beginning, but then they get comfortable at home or in the streets. She said staff need to be better trained to deal with students who break policies to help prevent suspensions.
"The reality of it is, if you're going to work at a school and you can't work with children, you don't need to be working at the school," Cannon said.
Members of Blocks Together, a community organizing group in West Humboldt Park, partnered with Access Living's Advance Youth Leadership Power program to bring attention to the more than 3 million students suspended every academic year.
Blocks Together member Ana Mercado said more funding needs to be directed toward restorative justice programs, which address the needs of the students who commit the offenses and work on solutions to the underlying causes.
"Everybody needs to be trained in this approach in dealing with young people so that when they mess up, it's really an opportunity for them to learn something from it instead of just being further alienated by kicking them out," Mercado said.
According to research conducted by Dignity in Schools, police are more commonly handling discipline in schools, which leads to fines and arrests that can keep students out of class longer.
Mercado and other Blocks Together members want to make sure students do not end up going from school to prison.
Former Orr Academy student Malachi Hoye, now a senior at North Grand High School, said young people need to support this issue because suspension does not solve the problems.
"I don't want to see my former schoolmates and also my friends that are on the streets and live in my neighborhood to get into the juvenile detention," Hoye said.
He said he witnessed many of his classmates getting suspended over what he called "petty reasons," such as not carrying a school ID or not being in full uniform.
"They think suspending and pushing them out is the way to go … kids need a one-on-one connection to help their skill levels," Hoye said.
"You never know, kids [might] have problems at home. They could be homeless, adopted, whatever, but [the school] is not really paying attention to that."
The one on-one-attention Hoye refers to was implemented at Orr Academy in 2009, and students like Andrew Allen and Misael Salgado, both sophomores, know firsthand the impact such a program can have on students.
Orr's peer jury allows troubled students to meet with other students to discuss issues that arise and gives at-fault students the opportunity to voice their thoughts and reasons behind their actions.
"They first have to be a part of a peace circle where peers from their class or school actually sit down and try to talk to them, try to figure out the problem, and also help them come up with ways to solve it and fix it," Allen said.
And Brittany Cannon is proof that programs such as Orr's peer jury can work. She now studies musical theater at Columbia College Chicago and plans to be the first in her family to graduate college in four years.
Dignity's Week of Action ends Oct. 6. This year's initiative, "Solutions Not Suspensions," features marches, rallies, teach-ins and trainings in more than 20 cities across the U.S.  Click here for more information.