Great weather, great music and great fun–Saturday was a great day to dedicate a community  garden.
Residents united at the northeast corner of Mayfield and Chicago avenues Sept. 8 to officially dedicate the Ed Bailey-Leola Spann Community Garden, an event made possible by several organizations, including the Austin African American Business Networking Assoc., Hope Community Church, the Sankofa Cultural Arts Center, the AIDS Foundation of Chicago and the Westside Historical Society.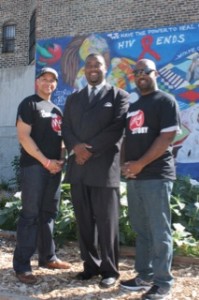 The garden was named in honor of two longtime Austin residents and community activists. Edward Bailey was the founder of the South Austin Community Coalition and Leola Spann founded the Northwest Austin Community Council.
Ald. Deborah Graham and state Rep. Camille Lilly participated in the ceremony, which took place under the backdrop of the Austin AIDS mural.
Lilly shared how Spann inspired her to get involved in her community.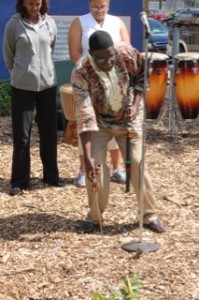 "Ms. Spann was the one who sent me to Washington D.C. to get an understanding of how community development works," she said. "I just got back from the Democratic National Convention in North Carolina as a proud Democratic legislator."
Lilly pointed proudly to the Peace Tree she helped plant in the garden.
Earlier this summer, local residents, business owners, and the Austin Green Team, helped plant many of the flowers and vegetables now thriving in the garden. Stacia Crawford, executive director of the Sankofa Cultural Center spoke about how proud she was to see that corner blossom from an eyesore to a garden, ripe with possibilities.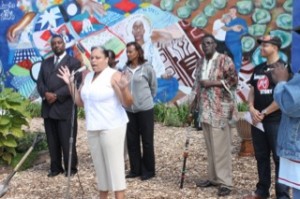 Graham pumped up the crowd stating that the vegetables from the Bailey-Spann garden can now be sold at the Austin farmers market, giving residents an opportunity to eat healthy, as well as sell their produce.
Graham also spoke about plans to soon transform the Chicago Avenue corridor into an African-American business district that can make the community proud.
"My job as alderman is to bring the resources to facilitate the community's vision," she said.
And it was combined time and resources given by the community that helped the Bailey-Spann garden flourish.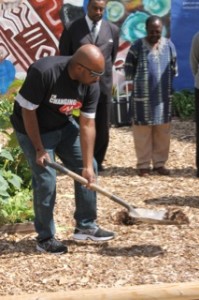 Dara Cooper donated soil she brought back to Chicago from a recent trip to Ghana. She collected the earth from the village where the great Ashanti warrior, Nana Yaa Asantiwaa, was known to have lived.
The crowd applauded as Rickey Brown of the Westside Historical Society pulled his ceremonial sword and poured the vile of dirt from the Ashanti people on the ground of the Bailey-Spann garden. Following the dedication, residents enjoyed a two-block long outdoor party featuring live stage performances, a basketball tournament, a bounce house for the kids, free food, and health screenings.
Malcolm Crawford owns the Sankofa Cultural Arts Center and is the executive director of the Austin African American Business Networking Association.