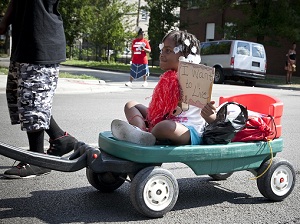 Chants of "say no to drugs" and "I want to live" came from a group of about 20 kids marching through Austin last month as they took part in the 24th Annual "Say No To Drugs and Violence" parade.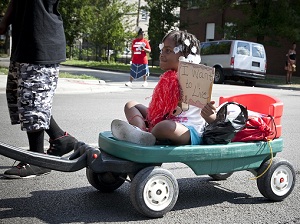 The July 28 event was the first time the Healing Temple Church of God in Christ featured the topic of violence in its annual parade. In a community that has experienced 20 homicides in seven months, organizers recognized the importance of promoting peace in their neighborhood.
"This year, adding the violence piece, we're hoping to bring more awareness that we need to deal with the violence in our community, which goes hand-in-hand with drug-use," said Elizabeth Lockhart, executive director of Healing Temple C.O.G.I.C. and a life-long Austin resident.
Lockhart's father started Healing Temple more than 35 years ago. Her brother, the Rev. Larry Lockhart, serves as pastor of the church.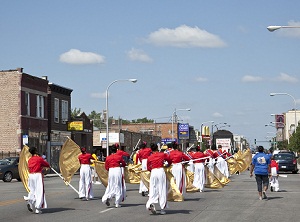 "We have to learn how to communicate in our community; if I'm angry with you, we need to talk about it and not shoot each other," she said. "We need to train our young folk to possess better communication skills, so they won't do drugs, so they won't be violent, and we need to get that message out there."
Kicking off at 9 a.m., the parade featured the South Shore Drill Team, Exodus Drum and Bugle Corps, the Chicago Sky, whose mascot handed out souvenirs, and Ald. Emma Mitts (37th), who greeted constituents while her team of aides passed out neighborhood watch posters with "we call police" in big black and red letters, meant for residents to put in their windows.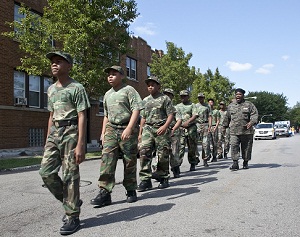 With a group of boys from the congregation dressed in military fatigues, the Rev. Lockhart led the parade with call-and-response military chants about saying no to drugs.
"We need to help the kids get off the streets and make sure the younger kids don't start selling drugs and doing the wrong things in life," said Laverta Pitts, 23, a life-long resident of Austin whose three sons, at 3, 6 and 9-years-old, all marched in the parade carrying anti-drug and violence signs.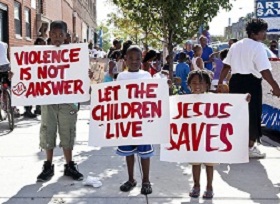 "I'm scared for my kids all the time," she said. "Being a part of this parade and being active in the church, I hope it'll show kids to stop the violence and communicate with others, and not to sell drugs, because drugs lead to the violence."
The parade marched west from the front of Healing Temple, at 4941 West Chicago Ave., to Central Avenue, then north to West Augusta Boulevard and over to Cicero Avenue, then back to Chicago Avenue and Healing Temple.
Afterward, the church hosted a party where they served food and played music.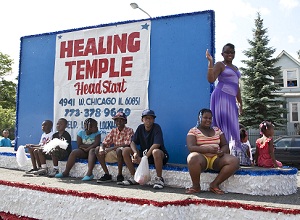 "Everybody needs to do all they can to stop the drugs and violence," Ald. Mitts said. "The violence is out of control … for the last couple of weeks I've been meeting with the West Side elected officials to come up with ways to do something — there's always something you can do."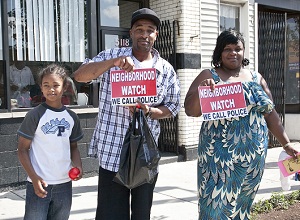 "We need to get a movement going. People want to get involved, but they don't know how. So we're going to set up committees," she said.
"We need to make this a priority, but first we need to hear what the community is saying. So we're talking about putting questionnaires out on the street to hear what people say."