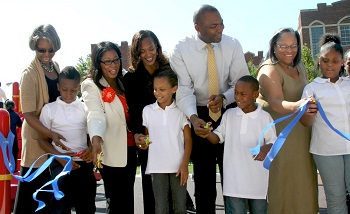 The sounds of running, jumping, playing and laughing resonate from Austin's Milton Brunson Math and Science Specialty Elementary School every day, thanks to a new playground and a school day that includes a time slot reserved for recess.
Students at the West Side elementary, 932 N. Central Ave., a Chicago Public Schools Track E school, started their year earlier this month with a ribbon-cutting ceremony for the new playground and a longer school day. The longer day for CPS students citywide includes 25 minutes for recess, which many view as a positive change considering recess for many CPS students used to be something of the past.
"Kids need time to just be kids," said Lynn Morton, co-chair of the Parents Organized to Win, Educate and Renew Policy Action Council (POWER-PAC), who campaigned for years to get a playground and recess at Brunson.
Morton's 4-year-old niece is able to enjoy the new playground every day during recess, but Morton's son, a graduate, missed the opportunity.
"A break during the day is something he really would've benefited from," she said. "It's inhumane to expect any person of any age to sit quiet and stationary in one setting for too long. I understand the importance of testing, but as a mother, I know a child needs time to be a child."
CPS' longer day, an initiative introduced by Mayor Rahm Emanuel, is a source of contention for the Chicago Teachers Union, which argued against teachers working longer hours without a pay increase.
Although debate continues, the two sides reached a compromise in July when Chicago Public Schools agreed to hire 477 new teachers in non-core subjects such as music, art, foreign language and physical education.
The seven-hour day at Brunson includes an additional 30 minutes for reading, 15 minutes for science, 10 minutes for enrichment and 25 minutes for recess, something they did not have last year. Before this school year, 60 percent of Chicago's elementary schools did not provide recess to students, according to CPS in a press release.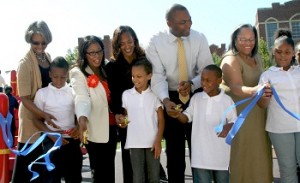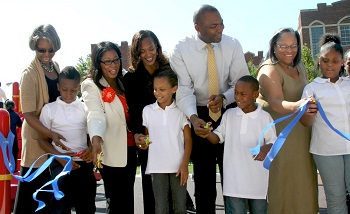 Students, teachers and representatives from Chicago Public Schools, including CEO Jean-Claude Brizard, celebrated the unveiling of Brunson's new playground Aug. 14 to commence the 2012 school year.
Brunson was one of 10 schools that received a new outdoor play structure this summer, and 15 other schools received new playgrounds to replace or supplement existing playgrounds.
"We know that recess not only promotes lifelong habits of healthy living but also increases the likelihood of a student's success in the classroom, which is why it's a key component of the new, quality full school day," CPS CEO Jean-Claude Brizard said in the release.
In 2009, researchers from the Albert Einstein College of Medicine reviewed data on about 11,000 third graders, collected in 2002 as part of the Early Childhood Longitudinal Study, financed by the United States Department of Education, to deduce student achievement in classrooms with recess.
Results showed that students across the nation received higher behavior scores in classrooms with at least 15 minutes of recess.
"When kids have the opportunity to get up and move around it helps them to refocus on academic activities," said Ellen J. Silver, co-author of the study and associate professor of pediatrics at the Albert Einstein College of Medicine in Bronx, NY.
"In addition to promoting physical wellness, there's a lot of play that happens during recess that wouldn't happen when students are solely focused in a formalized classroom; students can learn how to interact with their peers and learn about social norms. That's something not all kids are able to do after school."
At least one Brunson teacher views this as a positive change.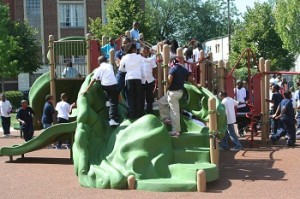 "The students are really enjoying the playground. They now have the freedom to go outside, exercise and play with their friends … Plus it's a good reward system for teachers; if they act correctly, behave and do their work, they get to play and get free time, and the students are responding really positively to it," said Katie Svoboda, a Brunson teacher of six years who's third-grade class has recess at 10 a.m.
"This is the only playground I know of in this four-block radius where the kids can play on new equipment and it's safe," she said.
But at several schools across Chicago, students don't have a safe area to run around in or structure to play on during recess. There are still 17 elementary schools without an outdoor space for recess.
Marielle Sainvilus, a CPS spokeswoman, said some schools use nearby parks or introduce physical activity in a more creative manner, such as technology assisted programs like Wii Fit.
One West Side state senator would like to see a law is passed to require recess at all schools.
"Being a mother, and loving the subject of education, I thought there's no realistic way that children can sit hour after hour and not have a little break," said Sen. Kimberly Lightford (D-Maywood), the primary sponsor of SB 636, legislation that would make a 20-minute recess mandatory across the state.
In May the bill didn't pass in the Illinois House of Representatives, but Lightford said she plans to reintroduce it and hopes "the House becomes more engaged."
Lightford said the primary hurdles for recess are space, safety, supervision and time during the school day. But she said with proper leadership those obstacles can be overcome.
"Recess is a good thing for overall health; it helps for release; it helps with physical activity; it helps students' mindset, and then its time to go back in the classroom and learn," she said.
*All photographs courtesy of Chicago Public Schools