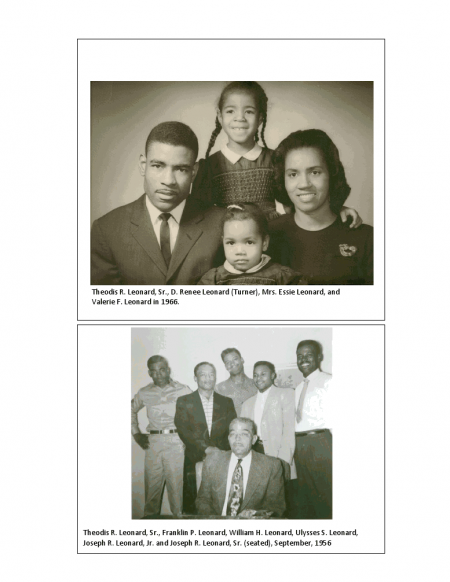 Theodis R. Leonard, Sr., a retired principal of Paderewski School and community activist, died of natural causes Easter Sunday, April 8, at sunrise. He was 78.
Mr. Leonard was born Feb. 3, 1934, in Slater, Miss., to loving parents, Joseph Richard and Lelia Leonard, who preceded him in death. He was the fifth of the couple's six surviving children.
Mr. Leonard graduated from Mileston High School in Tchula, Miss., in 1953 and enlisted in the U.S. Air Force, where he served four years. He obtained the rank of staff sergeant and received a special commendation for inventing a hand tool to service airplanes. He was honorably discharged in 1957.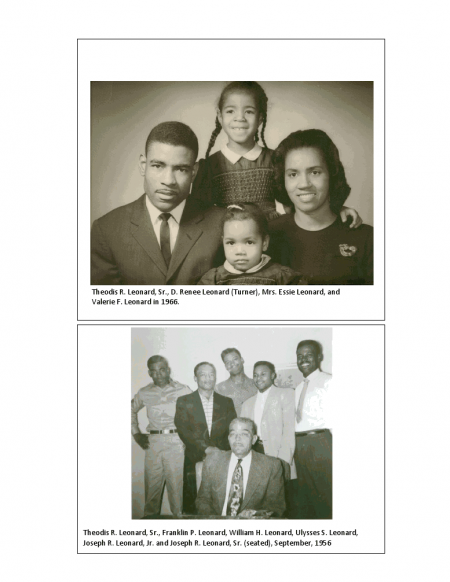 Shortly thereafter, he married his high school sweetheart, Essie Tate, and moved to Chicago's North Lawndale community.
Mr. Leonard and his wife expressed their love to each other for 54 years, 3 months and 12 days. The couple have four adult children. The Leonard family were among the first African-Americans to purchase homes in North Lawndale's Historic K-Town.
A persistent hunger for education led Mr. Leonard to enroll at Crane Junior College, where he received his AB degree in education. He later received his master's in guidance and counseling from Chicago's Teachers College (now Chicago State University). He completed additional coursework to obtain his Type 75 certification (to qualify for school principal) at Governor's State University.
Mr. Leonard began teaching at Gregory School in 1965 and was promoted to guidance teacher, and later to assistant principal. Early on in his career, he served as a program director for a summer youth outreach program based in the Urban Progress Center.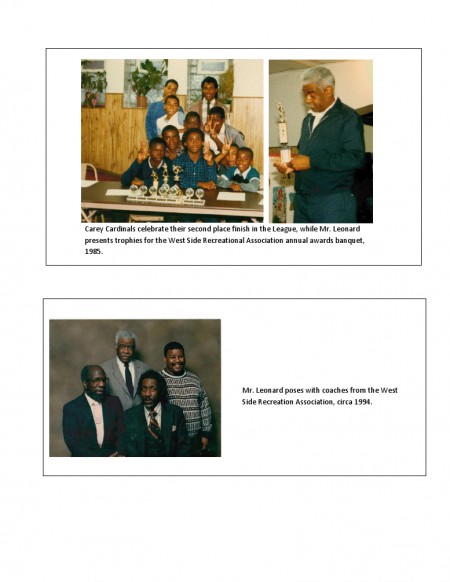 Mr. Leonard was a mentor to younger teachers and was instrumental in bringing programs such as Project CANAL and Adopt A School to help teachers develop professionally and to supplement the school's public resources. He encouraged several parents to get involved with the PTA and Local School Council, and to go back to school to become teachers.
A number of his former students refer to him as a "father to the fatherless" and credit him for their becoming educators. Mr. Leonard also served as a representative to the Chicago Teachers Union under the leadership of the late Robert Healey and the late Jackie Vaughn.
Mr. Leonard was also instrumental in getting a representative from the West Side appointed to the Chicago Board of Education (the late Michael Scott, during former Mayor Jane Byrne's administration) and helped organize students, parents and faculty to keep Gregory School from closing in the late 1980s.
He networked with a broad cross section of community based organizations, including the Midwest Community Council and Better Boys Foundation. Mr. Leonard was also an active member of the PTA for Daniel J. Corkery School, where his children were educated.
Mr. Leonard served as principal of Paderewski School until his retirement in 2001. He was a founding member of the North Lawndale Learning Community, a network of principals, educators and North Lawndale residents.
Mr. Leonard's thirst for education didn't prevent him from serving in the church. He was a member of the Carey Tercentenary AME Church for more than 50 years. He served in a number of capacities, including Sunday School superintendent, a member of the Usher Board, Class Leader, member of the Steward Board, and member of the Board of Trustees. He was the co-chairman of a scholarship drive in which the church sold subscriptions to Johnson Publishing Company magazines. Through his efforts, Carey
Tercentenary was Johnson Publishing Company's top producing community partner, and several members of the church were able to get scholarships to offset college expenses.
Bishop McKinley Young, who once served as the church's pastor, helped to organize the Laymen's Organization and appointed Mr. Leonard president, a position to which he was elected and re-elected for more than 30 years. Under Mr. Leonard's leadership, the organization organized a tutoring program to help students with their reading and math skills while enabling student teachers to get hands on experience.
The Carey Tercentenary Laymen's organization was one of the first church auxiliaries in the City of Chicago to develop a computer training program, using TRS-80's and the Commodore 64 computers in the 1980's.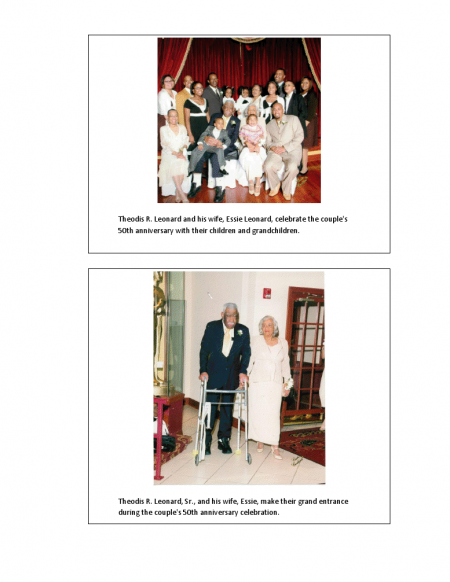 The Laymen's Organization organized the Carey Cardinals baseball team, which was the West Side's only official Little League affiliate at the time. The team expanded to a league sponsored by the West Side Recreation Association (WSRA). The Laymen's organization also sponsored sewing classes where students learned to sew, and showed off their creations with an annual fashion show.
Mr. Leonard worked with his vice president, Cecil Morris, to develop a Black History Bowl in which youth and adults competed on teams to answer trivia questions concerning Black History. The game was eventually adopted by a number of schools in North Lawndale.
Mr. Leonard was active at the City, 4th District (regional), and Connectional (national and international) levels of the Laymen's organization, focusing on educational issues and raising funds for scholarships to Morris Brown College in Atlanta, Georgia and Wilberforce University in Wilberforce, Pennsylvania.
Mr. Leonard was very engaged in the civic affairs of North Lawndale. He served as an informal advisor to a number of elected officials, including Congressman Danny K. Davis, Former State Representative Arthur L. Turner and Cook County Commissioner Robert Steele.
He networked with other community activists from North Lawndale and the AME Church on voter education and registration drives, candidate forums and the election campaigns for the late Mayor Harold Washington.
He also worked with the Carey Tercentenary AME Church Laymen's organization to coordinate North Lawndale's first political rally for State Senator Barack Obama in his quest for US Senate.
Above all of these accomplishments, Mr. Leonard was a family man who believed in attending church on Sundays, bringing his children to church and supporting all church auxiliaries with their fundraisers. He was a lifetime member of the NAACP, Retired Teachers Association and the Principals and Administrators Association.
Those who cherish his memories include his wife Essie, also a retired teacher; four children, Renee (Floyd)Turner, Valerie F. Leonard, Theodis R. Leonard, Jr. and Curtis Allan Leonard; special family friend Kyshia Thompson; a brother, William Humphrey (Juanita) Leonard ;brother-in-law, Thomas Stepp; god son, Dr. Raymond H. O'Neal, Jr.; one aunt (LB Holmes); 10 grandchildren, eight great- grandchildren, and a host of nieces, nephews, cousins and friends.
Funeral services by Leak and Sons are scheduled for Saturday, April 14, at Carey Tercentenary AME Church, 1448 South Homan Ave. from 11:30 a.m. to 1:00 p.m., following the wake from 10:30 to 11:30 a.m.
In lieu of flowers, tax-exempt, restricted donations may be made to offset planning and construction costs for the Mary Butler Community Center, as follows:
Carey Tercentenary AME Church 1448 South Homan Avenue Chicago, IL 60623 Memo: Mary Butler Community Center
For further information, contact Valerie F. Leonard at 773-521-3137, or valeriefleonard@msn.com.