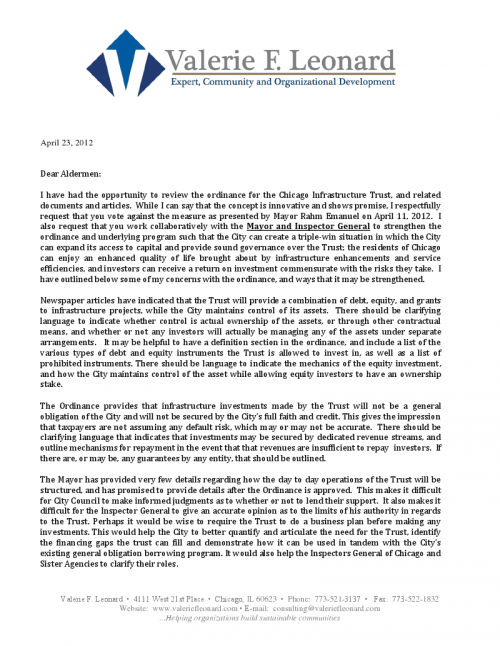 Tell your alderman to vote "no" for the Infrastructure Trust at Tuesday's 10 a.m. special Chicago City Council meeting.
The deal effectively transfers oversight of financing from the city to a nonprofit organization. The nonprofit is not subject to the same disclosures, open meetings and oversight as conventional general obligation bond financings orchestrated by the city of Chicago would be.
The city would be on the hook for all the expenses and liabilities of the deal, while the nonprofit trust and financing companies would control the terms and reap the financial benefits. The long-term contracts will result in higher financing costs than the city could obtain under a general obligation deal. It's not like the city has a poor credit rating and has to settle for higher interest rates.
Share this on your Facebook wall, send e-mails and make calls to your networks. Click here to find your alderman and his or her contact information.
A notice and substitute ordinance are may be downloaded by clicking here.
Here's what others are saying:
Chicago Tribune Editorial (Care of Bruce Crosby)
April 23 2012… "(L)eaving these questions (of oversight) unanswered and jurisdictions undefined will only lead to legal disagreement and conflict down the road that will undermine public confidence in the integrity of this potentially beneficial program."
Click here to read the entire article.
Here's an editorial by the Chicago Sun-Times
Click here to read an editorial by the Windy City Young Republicans.
Here's the Change.org Petition
Valerie F. Leonard is a community development consultant with a mission to strengthen the capacity of organizations to make a positive impact on the communities they serve through technical assistance, specialized workshops, resource and organizational development and project management.