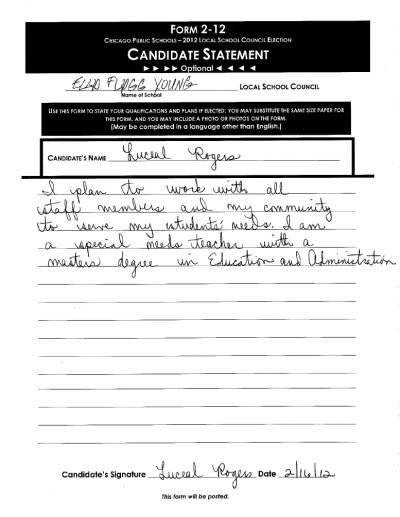 Six candidates running for a community representative position on Ella Flagg Young's Local School Council are competing for two seats in this week's election.
The six candidates are: Cornell Farmby, Sammie Green, Sharon Hicks, Richard Stader-Shaw, Shernet Strawder and Dwayne Truss.
Young's LSC coordinator Deborah Odeneal said the next LSC will have a key role in helping to determine how the longer school day will be used. Mayor Rahm Emanuel announced last week that all CPS elementary schools would be extended from five hours and 45 minutes to seven hours.
"We don't know how that will work out," Odeneal said when AustinTalks visited the school, located at 1434 N. Parkside Ave., April 9.
Candidate Truss said the longer school day debate is not over, and the next LSC will be instrumental in making it work effectively for Young.
Truss said there's been talk from Chicago Public Schools that teachers will have a prep period next school year, but he wonders who will watch the children during that time.
"Who's going to cover the classrooms?" he said. "How are you going to pay for it?"
He said his goal if elected as a LSC community representative is to help the LSC understand the power it possesses, and to "use it effectively to be the best advocates for their school."
Of the six community candidates, three filled out the optional candidate statement portion of their applications, which the school made available to AustinTalks.
Stader-Shaw, who works at the Department of Veterans' Affairs for Illinois, said in his candidate statement he has a "life-long history of service to my nation, and now I want to commit to my community."
"Nothing else can better guarantee a child's success other than solid education, and I want to be a part of that," he wrote.
Green, another community member who submitted a candidate statement, wrote that a student's life begins in the community.
"So as we develop our community, we develop our school and our livelihood," Green wrote.
Strawder, who wrote she's volunteered at Young for 17 years, addressed her statement to her "E F Young family."
"My goal and my focus will always be how can I better serve the children at Young school and the community," she wrote.
A total of seven candidates also applied for one of the six parent spots on the council.
They are: Mary Alexander, Melinda Banks, Faye Edwards, LSC chairwoman Earlean Green, Latisha Lee, Lavette Smith and Marvin Sykes.
Current parent LSC representative who's up for reelection, Latisha Lee, wrote in her candidate statement that she's volunteered in the school's lunchroom, among other assignments, for more than six years.
"My plan, if I am reelected, is to make a difference in Ella Flagg Young children lives in a positive way," she wrote.
Non-teacher Charles Dunlap and teachers Geraldine Catto and special education teacher Luceal Rogers are also up for election.
"I plan to work with all staff members and my community to serve my students' needs," Rogers wrote in her statement.
The school councils, which typically meet once a month, consist of six elected parents; two community representatives; two teachers; one school staff member who is not a teacher; and the principal. The chair of the Local School Council is elected by the council and must be a parent.
The election will be held at Young on April 18 from 6 a.m. to 7 p.m. at the main entrance of the school.
See optional candidate statements below: