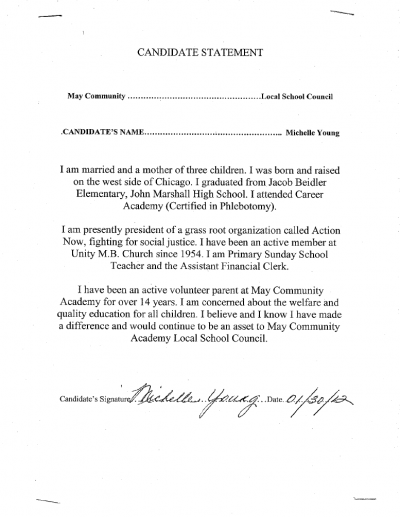 How to spend the longer seven-hour day at Horatio May Elementary school will be the main challenge the school's next elected Local School Council will have to address, said the school's principal.
"It's going to be a first-year task for everyone trying to make sure that the seven-hour day functions properly and benefits our school," said May Principal Roger Lewis.
He said he cannot stress it enough — the longer school day is the main issue for the next LSC, which will be elected April 18.
"This is the main priority for everyone, so that's what I see us rallying around," he said.
The LSC will also work to get parents involved in the longer school day dialogue, Lewis said.
Five community representatives are vying for the two open LSC community spots at May, located at 512 S. Lavergne Ave.
The community members running are: Sherri Blumingburg, LSC chairwoman Michelle Young, current LSC member Anita Hayes, Monique Moore and current LSC member Queenie Sanders.
Sanders wrote in her optional candidate statement she wants to help children be prepared for the future and whatever obstacles they may face.
"If elected, I cannot promise all kids will graduate on the honor roll, but they will not fail," she wrote.
She also added she wants to help create a safer learning environment for students.
Chairwoman Young, who's volunteered at May for more than 14 years and is the president of the social-justice grassroots organization Action Now, is looking to snag one of the community representative slots.
"I am concerned about the welfare and quality education for all children," she wrote in her candidate statement. "I believe and I know I have made a difference and would continue to be an asset to May Community Academy Local School Council."
The school council, which typically meets once a month, consists of six elected parents; two community representatives; two teachers; one school staff member who is not a teacher; and the principal.
Five parents submitted applications for the six LSC positions. Once elected, the LSC will have to recruit another parent candidate to fill the open spot, Lewis said.
"We will send out flyers informing parents that there is still a vacant seat, and anyone interested in applying to come and stop in the office," he said.
When asked about the level of parental involvement at May, Lewis said, "Of course it could always be greater."
"I don't foresee a problem," he said, referring to finding another parent to apply for the position.
The parent candidates are: current member Michelle Harris, Grady Griffin, Lori Caples, current member Brenda Tyler and Tondrea James.
Caples, who is a certified substitute teacher, wrote in her candidate statement that she wants to make May a "better, safe learning haven for our children."
"I know I would be a good advocate for the children and the community in which the school is in, because I've been able to experience both sides of the fence," Caples wrote.
Current LSC parent Harris wrote, "As a parent on the board, it helps constant communication between the council and parents."
"Many parents need an advocate for many situations."
Three teachers are running for the two spots: current members Anita Davis and Brandy Bolden and new candidate Jeffrey Hetrick.
Hetrick wrote in his statement that he strives to be more involved with students, parents and the administration at May.
"I am confident I can provide a different perspective on decisions regarding May Community Academy," he wrote.
Non-teacher Gloria Jones is also in the running.
May's LSC election will take place April 18 from 6 a.m. to 7 p.m. at the school.
See optional candidate statements below: