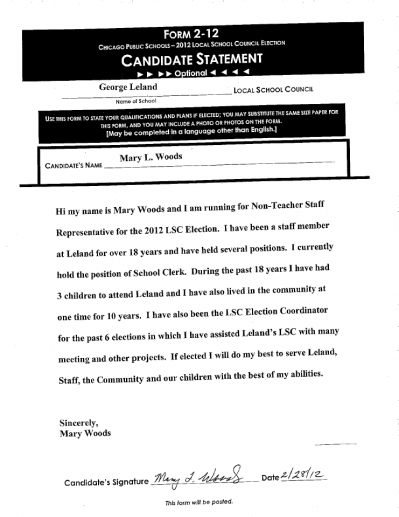 It's difficult to learn what the next elected Local School Council at George Leland Elementary School will have to address once it's elected April 18, as the school's principal and LSC coordinator declined to speak with AustinTalks during multiple interview attempts over the last two weeks.
Mary Woods, Leland's office manager who's running for the non-teacher position on the LSC, did speak with AustinTalks in a brief phone interview.
She said bringing more funding to the school, located at 5221 W. Congress Pkwy., and keeping Leland's attendance at 95 percent will be the LSC's biggest challenges next school year. Leland's average daily attendance rate for 2011 was 92.7 percent, according to Chicago Public Schools data.
"One thing we are working on is more fundraisers to boost our attendance to keep us at a 95 percent overall attendance," she said.
Woods said she's the best candidate for the position because three of her children attended Leland. Woods was also the previous LSC coordinator.
"I know the ins and outs of the LSC," she said. "For several years, I assisted the principal with LSC meetings and agendas."
She said as the school's office manager, she knows "the ins and outs of the budget and what's needed and not needed" for the school.
She declined to comment about how funding should or should not be used at the school, because she wasn't sure what she's permitted to say to the media.
Principal Loretta Brown-Lawrence declined to comment on the race or the challenges the upcoming LSC will have to tackle when AustinTalks made a visit to the school on April 9. LSC coordinator Shanika Maggette told AustinTalks on April 16 that she had no comment about the LSC.
The school council, which is re-elected every two years, consists of six elected parents; two community representatives; two teachers; one school staff member who is not a teacher; and the principal.
The LSC has the power to hire and fire the principal and spend the school's budget, among other responsibilities.
Parent candidates running for the LSC include current parent representatives Margaret Berry, who's also on the Columbus Park Advisory Council, Angela Holman and Marlene Collins. New candidates Tashunda Cooper, Alvina Johnson and Tonika Dockery are also on the ticket.
Holman submitted an optional candidate statement to CPS, which was posted on a bulletin board at the school. She wrote, "Aren't you tired of your child having less when it comes to current technology and subjects in school that are apparent in other schools? I know I am."
Holman wrote she's willing to be the voice, "that force, that person who works with you."
Collins, who's served on the council for two years, wrote in her candidate statement she has a bachelor's degree in business administration and has worked in corporate America for 20 years.
"I have been working to bring innovation to the youth of George Leland," she wrote.
The only contested race is for the two community representative positions. Those running are Deanna Baidoo, Jacqueline Carter, Emmaretta Poole and Sherri Blumingburg.
Baidoo said it takes a community to raise a child.
"I plan on supporting and backing what is right and fair," she wrote in her candidate statement.
Carter, a 13-year community member and mother of two, wrote in her statement she will make the "best choices for the children and community."
Blumingburg, who's served on the LSC in the past, said she's been a parent advocate for the school for many years.
"I would like to help the Leland council become a strong unit again," she wrote in her statement.
Teachers Alethea Poole and Susan Lee-Warner are also running.
The election will be held April 18 from 6 a.m. to 7 p.m. at the school. Two forms of identification are required.
See optional candidate statements below: