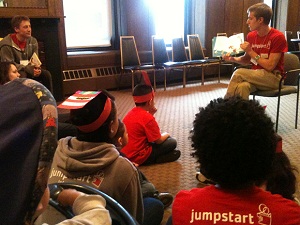 More than 650 preschoolers representing 19 schools throughout Chicago, including one in Austin, gathered at Roosevelt University earlier this month for the Jumpstart program's 3rd annual Dr. Seuss Day.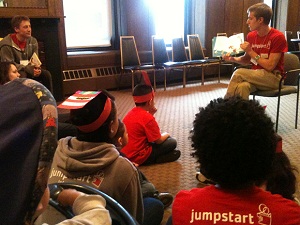 Theodor Seuss Geisel, who wrote more than 40 children's books, many of which have been passed on from parent to child since the original publication, would have turned 108 March 2.
Five preschoolers from Austin's Molade Child Development Center, 1120 N. Lamon Ave., attended the event.
"This was my first year, and this is the first year that Jumpstart is working with Molade," said Roosevelt University student Katrina Case, 19, a Jumpstart college corp. volunteer.
"I just talked to one of my kids that went [to Dr. Seuss Day], and her mom said that they had so much fun. We knew it was structured, but the kids didn't feel that way so they felt they had free reign," she said.
While Jumpstart is currently only active in one Austin school, plans to engage with more are underway.
The program pairs students from five local universities — Northwestern, Loyola, DePaul, Roosevelt and the University of Chicago – with preschoolers from across the city.
Jumpstart's mission is to teach literary skills and phonemic awareness to prepare kids to enter kindergarten successfully.
"[Dr. Seuss Day] is an opportunity for families from all over Chicago to just enjoy a day of fun and celebrate reading," said Jennifer Swezey, Jumpstart's Midwest program director. "Dr. Seuss wrote timeless classics. I think the way he writes opens children's minds to the possibility of this 'other' world."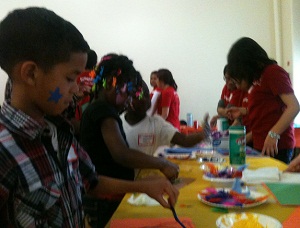 The March 3rd activities included painting stations, Dr. Seuss book readings, a live "Cat in the Hat" performer and "Oobleck" (from the book "Bartholomew and the Oobleck"), and a sensory workstation where kids could use their hands to experience the liquid to solid transition of baking soda in water.
The kids were in a frenzy during the three-hour event. They spent time hugging the "Cat in the Hat," playing games and reciting words from Dr. Seuss' books mostly from memory.
Teresa Garcia's daughter, son and 5-year-old grandson, Robert, could be seen at nearly every station throughout the day.
Garcia, an employee of the Gads Hill Center, a community-based family resource center in Pilsen, said her children have been involved with Jumpstart and it's educational counterpart, Head Start, since they were young, a tradition that has continued with Robert.
"[The events] make learning interesting and fun," Garcia said.
"The kids think it's a game, but it's really also a learning experience. Exposing them to these kinds of activities enriches their learning and engages them with other kids their age."