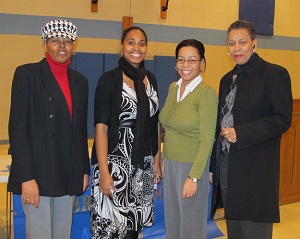 The National Association for the Advancement of Colored People's Westside Branch held its second of several primary election forums Thursday evening.
Metropolitan Water Reclamation District Commissioner Debra Shore and a representative for Patrick Thompson, who are both running for one of three seats on the Water Reclamation board, attended the forum.
Wallace "Mickey" Johnson, who's running for committeeman of the 24th Ward, which covers portions of Austin, Lawndale and Little Village, also made an appearance.
Ald. Michael Chandler (24th) and current ward committeeman did not attend the forum held at Reverend B.T. Little Community Center, 1300 S. Kedzie Ave.
The NAACP, a non-partisan organization that doesn't endorse candidates, invited all contenders running for the Metropolitan Water Reclamation District, Cook County Board of Review, 24th Ward Committeeman and delegates for the National Convention to the Feb. 16 forum.
One issue raised by multiple community members in the audience was the lack of registered voters on the West Side and across Chicago.
"Is there really a particular reason why it's only 23 percent of this area voting?" Lawndale community member Lamont Bennett asked Johnson, the 24th Ward Committeeman candidate.
"Is there a good reason why?"
Johnson said too often, candidates only come to the communities when it's time to vote.
"We need to come out during non-election cycles, too," he said.
"Once we show that we care, then your response will be to vote."
This primary election year, less than 1.3 million people registered to vote — a record low, WBEZ reported earlier this week.
Shore, who's running for a seat on the water reclamation board, said if she's re-elected, water conservation, green infrastructure and efforts to reduce flooding will be her top priorities.
The Water Reclamation District, which does not determine water rates in Chicago, treats water after it's used, Shore said.
"As someone once said, 'you flush, we take it from there,'" Shore said.
She's trying to pass a storm water ordinance that would require new developments in Chicago to capture more rain on site to help reduce flooding.
Only three of the six candidates running for the Metropolitan Water Reclamation District will win seats on the board. At the March 20 ballot, voters will be allowed to vote for up to three candidates. They cannot vote for a single candidate multiple times.
Click here to view upcoming forums on the NAACP website.
*Photos by DuShaun Branch