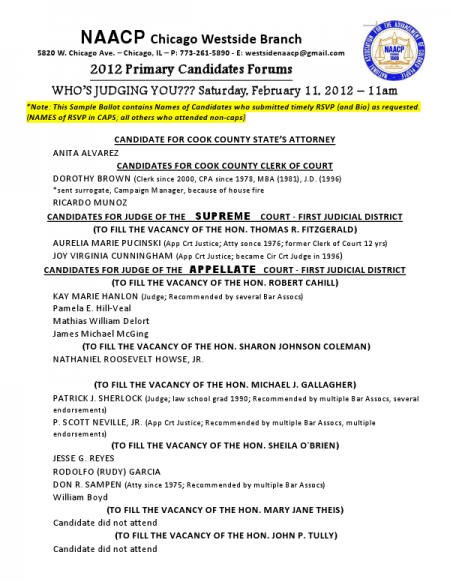 The NAACP's Westside Branch kicked off its first of three primary election forums, "Who's Judging you,"  Saturday, Feb. 11.
More than 20 hopeful candidates competing to fill various Cook County positions and judicial seats presented their cases to a packed room of West Side residents with the hopes of winning their vote March 20.
Candidates running for Cook County State's Attorney and Cook County Clerk of the Court were first to speak at the afternoon forum at Sankofa Cultural Arts & Business Center, 5840 W. Chicago Ave.
Judge candidates for the First Judicial District supreme, appellate and circuit courts also made an appearance.
The event started with a question-and-answering session with Cook County State's Attorney Anita Alvarez, who's running unopposed.
A NAACP panelist asked Alvarez how many minority attorneys work in her office.
"I am very proud of our minority numbers," Alvarez said. "They are the highest they have ever been in the history of this office."
Presently, Alvarez said out of 850 attorneys,  96 are African-American.
About 69 Hispanic and 55 Asian attorneys also work at her office, she said.
Melissa Williams, the Westside NAACP's criminal justice committee chairwoman, told Alvarez about the organization's efforts to amend Illinois' criminal record sealing law. Williams asked the state's attorney if she would stand behind the NAACP.
Alvarez said she would need to read the specifics of the legislation, authored by Rep. La Shawn Ford (8th) and Rep. Constance "Connie" Howard (34th), before answering that question.
"It's something that I'm open to looking at," she said. "We would have to focus on non-violent offenses, because, unfortunately, I think when a person does have a violent crime, we need to have a record of that and see that."
Ald. Ricardo Munoz (22nd), who's running for Cook County Clerk of the Court, told AustinTalks before the forum he's running for clerk because the office is "in dire need of reform."
Munoz  is pushing for a full electronic filing system for the office so people  can have access to an "accountable, transparent and affordable clerk system," and to save the taxpayers money.
Munoz said his opponent, the current Cook County Clerk of the Court Dorothy Brown, receives campaign contributions from vendors and her staff, but his administration would prohibit that.
"And of course, I would eliminate the personal driver and the personal security detail she has in order to save the taxpayers money," he said.
When it came time for the two to take the stage, the audience was informed Brown couldn't make it due to a fire on Friday night that broke out at her Calumet Heights home.
Brown was not hurt in the fire, but her house appears to be a "total loss," said Peter Dagher, her campaign manager who answered audience questions on her behalf.
Dagher defended the clerk from the alderman's charges, saying Brown has brought reform to the office.
"There has been some savings for the taxpayers in the tune of about $356 million since she began," Dagher said.
When the Illinois Supreme Court allowed some electronic filing to begin in April 2009, Brown rolled it out in May and continues to improve the system, Dagher said.
Aurelia Pucinski, a candidate to fill Illinois Supreme Court Judge Thomas Fitzgerald's spot, brought the NAACP's chairwoman, Vera Davis, flowers for her birthday before approaching the stage to speak.
Her opponent, Joy Cunningham, couldn't make it for questions and answers but did attend the forum later that afternoon.
Pucinski was clerk of the court for 12 years, and that experience helped her create the youth peer juries that are still in operation in many police districts, she told the audience.
"Youth non-violent, first-time offenders, instead of getting embroiled in the court system, have a chance to turn their lives around by dealing with their peers … that turns these young people around in many cases."
And as far as her experience as an appellate court justice, she said all but one of her opinions have been unanimous.
"My colleagues agree with my reasoning, my research, my writing and my decisions, and I am very happy about that," she said.
At the end of her question and answer period, the moderator asked Pucinski if she's a member of the NAACP.
"No, but can I sign up today?" Pucinski said.
Click here to view upcoming forums on the NAACP website.