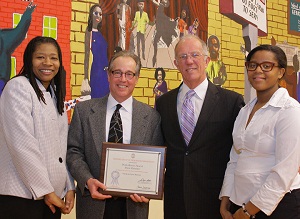 Austin Polytechnical Academy's career education center honored Chicago-area industry partner companies Jan. 26 for supporting educational programs at the West Side high school.
The two-hour event  was emceed by Michael Bentley, general manager of compressor operations at Johnson Controls Inc. in Wheeling, Ill.
Guests were greeted by student hosts who gave tours of the WaterSaver Faucet Manufacturing Technology Center.
Career program partners received special recognition plaques honoring the various ways they have contributed to Austin Polytech Academy and its students.
"We're delighted with the ongoing support that industry partners have extended to APA and the Greater Austin community. It truly demonstrates the interest and commitment invested by Chicago area manufacturers and trade organizations in specific workforce development issues," said Erica Swinney, career and community program director for the Center for Labor and Community Research, which operates Austin Polytech Academy's career program.
"As our business economy continues to rebound, we envision even greater participation from our existing partners not to mention those who are just now becoming familiar with Austin Polytech," he said in a press release.
Throughout the last year, members of the Austin Polytech Academy partner companies and organizations have provided significant career exposure opportunities to students, including: 108 students earned nationally-recognized industry credentials, 41 students had one or two job shadows, 36 students had paid internships or summer jobs, 19 manufacturing-related field trips, and 1 Austin Polytech Academy alumni secured a full-time job working in manufacturing. Partners have also contributed financially to the school's career initiatives with funding support totaling nearly $20,000 during 2011.
Featured presenters included Austin Polytech Academy Principal LaTonya Austin; state Rep. Karen Yarbrough; Ald. Jason Ervin; Veenu Verma, director of career and technical education for Chicago Public Schools; Austin Polytech Academy teacher Steve McIlrath; Dan Swinney, executive director of the Chicago Manufacturing Renaissance Council; Steve Kersten, president of WaterSaver Faucet Co.; Rodney Grover of Society for Manufacturing Engineers Education Foundation; and Bruce Braker, National Institute for Metalworking Skills board treasurer.