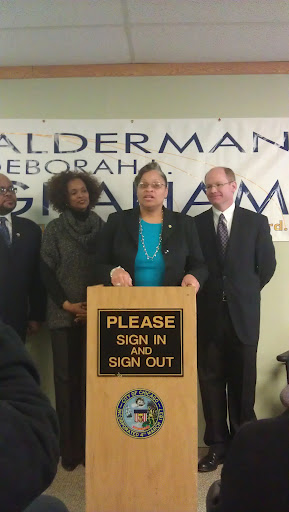 Ald.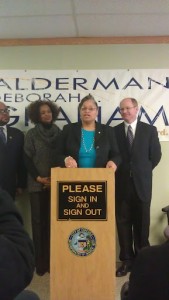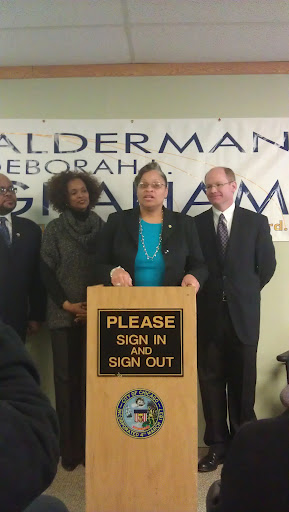 Sen. Don Harmon (39th), who are also running for re-election for their Statehouse seats March 20 when Illinois holds its primary election.
Graham, the 29th Ward's current committeeman, is being challenged by U.S. Rep. Danny K. Davis (D-7th).
At his official announcement Jan. 14, Davis said he was running for committeeman to "wrest some political power from the heavy hitters in Chicago politics," AustinTalks reported last month.
But during Graham's campaign address, she questioned Davis' intentions for running for the local position.
"Tell me why you need to be committeeman when you are a U.S. congressman?" she said to a packed room of supporters at her campaign headquarters, 5753 W. Chicago Ave.
"…You have a congressional seat that gives you leverage to talk to mayors. You don't need to be a committeeman. Do your job in Congress."
Graham said as committeeman, she will be in the community every day "on the ground working with our constituents," unlike Davis who spends time at the U.S. Capitol.
"You can't run the committeeman seat from Washington," she said. "You have to be on the ground here in the community."
Graham said Davis should "take care" of Austin from his Washington, D.C., position.
"Go take care of the speaker of the House in Washington … bring us back some resources we need in the community for economic development, for jobs we need to put people back to work here," she said.
Harmon, who represents Oak Park and parts of the Austin neighborhood, endorsed Graham, saying men and women on both sides of Austin Boulevard – the city's West Side limits – have the same issues, and elected officials in the area "are stronger when we stand together."
Last spring, the future wasn't certain for Graham's aldermanic election because seven other candidates were running for the position, Harmon said.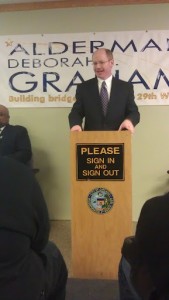 "Everyone was running against the alderman, and no one thought she could win," he said "But we won, and she won, and that sent a message."
Harmon said this committeeman election is different because it's a one-on-one race.
"It's a race against someone who's been here a long, long time," he said.
"But that's really not what this race is about. This race is about a new way of doing things versus the old way of doing things. It's about moving forward, not looking backward."
The alderman said she stands ready and committed to challenge anyone who questions if she's the best candidate for the position.
"We are not particular about any butt that we kick," she said.
The committeeman is an unpaid position that includes sitting on the slating committee for local judges and state legislative positions, among others.
"This is a volunteer job … this is hard work, but it's important work," Harmon said.
Dwayne Truss, Austin resident and advocate, who also serves on the Columbus Park Advisory Board, applauded the freshman alderman at Saturday's kick-off for "hitting the ground running" when it came to improving education and the parks in Austin.
Truss said Graham, in her first few months as alderman, helped restore a shelter at Columbus Park that was being vandalized. Truss said the Chicago Park District wasn't doing much to fix the shelter.
"She was like, 'No, no, no, treat this park like you treat Grant Park,'" Truss said.
"She got that on her radar just like that."