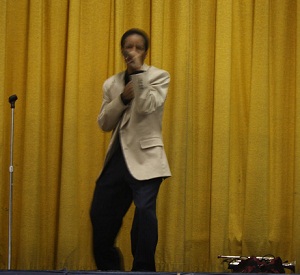 The Mkhonto Fellowship Choir from South Africa and Chicago musician T.L. Williams rocked Austin Nov. 20 at the third annual Soul Food Pow-Wow at  St. Paul Lutheran Church and School, 846 N. Menard Ave.

This free holiday event was hosted by Roman Morrow, who ran for 29th Ward alderman earlier this year, and his mother, Verna Morrow-Metcalf, who cooked the entire meal for the more than 90 West Side residents who attended.

The feast included fried turkey, ham, fried chicken, greens, sweet potatoes, corn and banana pudding.

Morrow said this year was the first he decided to add entertainment to the event, which started two years ago at his home as a way to unite the community with conversation and "togetherness."

"Some of the talent in Chicago is extraordinary," Morrow said.

"A lot of people got a chance to listen to something that's different or new."

Morrow said young and old appreciate different kinds of music, and he said he thinks it's important to create a forum to explore the talents and gifts right here in Chicago – and in Austin.

All the produce served at the event was purchased from Fresh Moves, the mobile produce market.

Morrow said he's already thinking about how he can top this event next year.