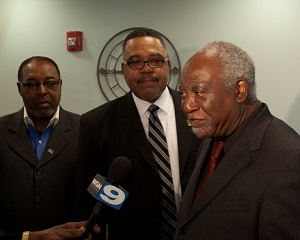 West Side seniors recently celebrated a new $10 million affordable housing complex named after a community activist.
The Enola A. Dew Apartments for Senior Living, 4623 W. Gladys Ave., officially opened with U.S. Rep. Danny Davis (D-7th), Ald. Deborah Graham (29th), Ald. Emma Mitts (37th), former Ald. Ed Smith and state Rep. Annazette Collins (D-10) in attendance.
The building is named after Habilitative Systems Inc. (HSI) president and CEO Donald Dew's mother, an advocate for many social causes and founder of the Mile Square Health Center.
Dew said the nearly 56,000-square-foot facility, which features 59 one-bedroom units, provides seniors with an opportunity to stay in the community.
There were 16,500 seniors in Austin and nearly 20 percent of all households were headed by seniors, with many living on a limited budget, according to 2010 data compiled by HSI.
"With the construction of the Enola Dew Apartments for Senior Living, there are 403 units of affordable housing for seniors making 30 percent or less of the AMI. This means that there could be an unmet need as high as 1,882 units for senior-headed households in this income bracket," Sharon Moreland, an executive assistant with HSI, said in an e-mail.
HSI recognized the need for affordable housing had increased after submitting its proposal to the U.S. Department of Housing and Urban Development in 2007, Moreland said.
"Clearly, the demand is increasing at a faster rate than supply."
HSI received 10 percent of the project's funding from the Chicago Department of Housing and Economic Development and  more than $8 million from HUD.
With 540 square feet of living space, each unit has a kitchen, access to an on-site laundry facility, free parking and a emergency response system. There's also a community room. Dew said residents will be provided with on-site dental and health screenings as well as transportation to doctor visits. Rent is based on income and no deposit is required.
The city's Area Agency on Aging will make referrals for seniors looking for affordable housing. HUD is paying for an on-site service coordinator to monitor seniors, assess their needs and determine if any additional support services are required.
Dew said integrated programing at the facility allows residents to get the help they need in a time when affordable housing opportunities are diminishing.
"As you look around the West Austin, Garfield and certainly North Lawndale, you realize that as buildings are being torn down … that clearly people need to go somewhere," said Dew. "Next to children, they [seniors] are our most vulnerable population."
HSI currently operates 39 social service programs and 15 housing units throughout the West Side. This is HSI's second senior supportive complex. The first, the Elois McCoy Apartments, is located at 4650 W. Van Buren St.
Twenty residents have moved in, and applications are still being taken. Applicants can apply in person or call 773-287-2972.