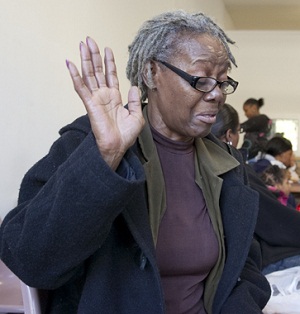 Shana Adams cried and prayed when she found out how much money she will save on her utility bill, thanks to the Low Income Home Energy Assistance Program (LIHEAP), which began enrollment Nov. 1.
This nationwide federal program provides financial assistance to low-income families needing help paying their home utility bills. Last year, the program helped 581,398 households cover their heating and cooling costs.
Chicago residents can apply at any Community and Economic Development Association (CEDA) site throughout the city.
While general enrollment began last week, seniors and disabled residents could register starting Sept. 1 and families with children under the age of 5 could enroll Oct. 1.
"People leave here on a daily basis and no longer have to worry about their bills," said Theresa Welch of the South Austin Coalition, 5835 W. Madison St., one of several CEDA sites on the West Side.
Since Sept. 1, Welch said she has seen at least 350 residents seek help with their utility bills.
"They get ecstatic and elated," she said. "They're happy, and I'm happy for them."
Instead of struggling through the winter, the 60-year-old Adams, said she'll be able to buy a coat and boots with the money she's saving.
"I'll sleep better," she said with tears in her eyes. "I can turn the heat up a little higher, now I can afford it."
The amount Adams owed for her gas bill dropped from $400 to $15, and her light bill from $50 to $8.
"I'm so grateful," she said. "I'll be crying the rest of the day. I have to call everyone and tell them I've been blessed."
To qualify for the program, a household of two people cannot have a 30-day gross income of more than $1,361. For a household of four, the 30-day gross income cannot exceed $2,794.
Residents have to present their heat and electric bills; proof of 30-day income for every resident in the home, such as two check stubs; and identification and Social Security cards for every member of the household. After the application is submitted, it may take 30 to 60 days for the applicant to be contacted.
"We let our bills get too high," said Shariamar Runles, 24, while she waited at the South Austin Coalition to help with her home energy costs. "They just got away from us."
Runles is unemployed and has sickle cell anemia. She said when it gets cold, her bones hurt. She lives in Austin with her 6-year-old daughter, her 23-year-old sister Denise and Denise's 3-year-old daughter, Dakaylah. Runles' electric bill, which was due in October, totaled more than $900.
The Westside Health Authority sees 10 to 20 people a week seeking assistance with their home energy costs.
"The LIHEAP Program is a big benefit," said Taisha Brownlee, office and senior case manager for Westside Health Authority. "Considering how the economy is, any help is good."
The non-profit's main office at 4800 West Chicago Ave. operates the Austin Wellness Center and assists individuals looking for employment, housing, clothing, food and substance abuse treatment. While Westside Health Authority doesn't offer home energy assistance, Brownlee refers people to CEDA sites, such as the South Austin Coalition, the Healing Temple Church and the Northwest Austin Council.
To find the nearest CEDA site, call 1-800-571-CEDA.