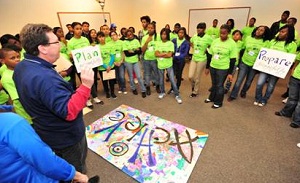 High school seniors who participate in one after-school program are more likely to graduate, according to the Stay in School Initiative's annual report card.
Chicago students who participated in the program – a collaboration between Exelon, ComEd and United Way of Metropolitan Chicago – had a 93 percent graduation rate, exceeding the 58.3 percent average for Chicago Public Schools seniors for the 2010-2011 school year.
Austin seniors make up about one-third of the program, which includes students from Fredrick Douglass Academy and Orr Academy High School.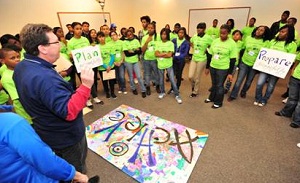 The Stay in School Initiative partner organizations work with three local agencies – BUILD, Centers for New Horizons and Youth Guidance – to provide a holistic suite of programs to students and their families, including tutoring, social services, leadership and social engagement skill-building, parent workshops, reward and recognition, and one-on-one mentoring with Exelon and ComEd employees in a seven-month workshop.
"We know that education is a key to a successful future," said Steve Solomon, director of corporate relations at Exelon. "That's why we make it a priority to support innovative educational programs in the communities we serve."
"Over the past six years, the Stay in School Initiative has proven its effectiveness in helping Chicago students realize their full potential. We are grateful to our community-based partners for their work in making the program succeed," Solomon said.
Stay in School serves grammar and high school students from the Austin, Bronzeville/Grand Boulevard and Humboldt Park/West Town neighborhoods. These communities were selected by Exelon and United Way of Metropolitan Chicago because they have some of the highest CPS dropout and truancy rates in the city.
To date, the initiative has served more than 11,000 students ages 13 to 20. It will serve another 2,000 students this school year; about 600 are from the Austin community.
Each year, the Stay in School Initiative issues an annual report card, which assesses the program's effectiveness in keeping students on track for graduation and building support systems to instill in them a desire for academic achievement. The 2011 report card reinforces that at-risk students can succeed with the right mix of after-school activities and attention.
The report card captures data from the 330 students who participated most intensively in Stay in School programs during the 2010-2011 school year; 110 of those students are from Austin:
o 84 percent of Stay in School students were promoted to the next grade.
o 63 percent of Stay in School students improved at least one grade in core courses (math, science and English).
o 78 percent of Stay in School students participated in post-secondary education activities (preparing for qualifying exams, such as the ACT).
o 75 percent of Stay in School students participated in leadership-based activities (defined as non-violent conflict resolution and participation in out-of-school leadership programs).
"By participating in Stay in School, I got to meet different mentors and learn about the business world," said Austin resident Amber Jones. (She was featured earlier this year on AustinTalks.)
Jones, 18, graduated from Frederick Douglass Academy High School in June and now attends DePaul University, where she majors in clinical psychology.
"I started believing that if I apply myself and put in the hard work, I can go as far as I want. This program gave me a better sense of self-confidence and self-belief," Jones said.
Exelon and its subsidiary ComEd have contributed more than $2 million to fund Stay in School. Improving education in the communities they serve is a key focus of the companies' corporate citizenship programs.
The Stay in School program also leverages the companies' cultural sponsorships to provide students enrichment and recognition. In addition, Exelon created a companion job skills development workshop series that provides up to 10 paid summer internships each year for Stay in School students.
"United Way of Metropolitan Chicago recently launched LIVE UNITED 2020, a decade long vision focused on helping 50,000 under-performing middle school kids enter high school ready to succeed," said Wendy DuBoe, chief operating officer at United Way of Metropolitan Chicago.
"Through this initiative, and the hard work and expertise of programs such as Stay in School, 50,000 more kids will reach their potential, contribute to our workforce, support their future families and make our community a better place to live."
For the full Stay in School Initiative report card, click here.