A new ordinance would require owners of foreclosed and vacant properties located within a 1,000-yard-radius of a Chicago school to hire watchmen to ensure students' safe passage if the proposal's sponsors – Ald. Deborah Graham (29th) and Bob Fioretti (2nd) – have their way.
The Vacant Property Safe Passages Ordinance — which Graham plans to introduce Wednesday in the Chicago City Council's Housing Committee — would allow the city to fine banks or other owners of foreclosed buildings up to $500 for failing to have watchmen on duty between the hours of 8 a.m. and 4 p.m.
Any money generated from fining the property owners would go back into the city's school system, said Chicago Teachers Union (CTU) staff coordinator Jackson Potter.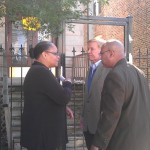 The two aldermen, along with CTU representatives and members of the community advocacy organization Action Now, gathered Sunday to support the proposal outside Leland Elementary School, 5221 W. Congress Pkwy. At least three vacant properties are located close to the elementary school.
"As teachers, we know that when children do not have stability in their surroundings, it makes it harder for them to learn and excel in school," Potter said.
Vacant properties are often "hot beds" for illegal activity, he said.
One empty two-flat by the school is a haven for illegal activity, such as dog fighting and drug use, said Sherman Carter, who's lived on the block for 41 years. He said the building, located in the 5200 block of West Congress Parkway, has been vacant for three years.
"Numerous gangs of people come to hide dope in and around the building, because there is no one to complain except me," he said.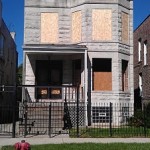 "I have put combination locks, all kinds of locks, on this gate, and every time I turn around, somebody cuts it off."
In addition to illegal activity, the vacant building attracts mice, rats and other vermin, which "makes the neighborhood look bad," Carter said.
Potter said the proposed ordinance will keep children safe, create jobs, provide money for schools if banks do not fulfill their obligations and "will do something to stop this foreclosure crisis from expanding."
Michelle Young, president of Action Now, said the banks need to be held accountable for foreclosed properties.
"We want the banks to be accountable, doing what they are supposed to do, and we want to send our children to school not fearing them being attacked," Young said.
"(Vacant buildings) are nothing but a haven for crime."
Bonita Robinson, a former Chicago Public Schools teacher for 39 years at Austin's Edward K. Ellington Elementary School, said as a child, she felt safe going to and from school.
"I felt nurtured by my community, and our children should have the same experience," she said.
"They deserve no less, because they are priceless treasures."
Fioretti said the proposal has a good chance of passing the City Council because it "protects our children, and they are the highest, most important priority that we need to have protected in our society."
"I know we have to roll up our sleeves," he said. "I am going to roll them up. I am going to sign it with Deborah, and we are going to get this thing passed."