Six Chicago schools – including Austin's Nash Elementary – added 90 minutes to their days on Monday, becoming the first Chicago Public Schools to voluntarily break from their union contracts and agree to an extended school day that has become a centerpiece of Mayor Rahm Emanuel's administration.
CPS chief Jean-Claude Brizard visited Nash Elementary School, 4837 W. Erie St. Monday and described a tranquil scene of children enjoying a lengthened recess period.
"At Nash and (the Near North Side's Skinner North Classical School), I couldn't help but peer out the window and see the kids playing outside," Brizard told the Chicago Tribune. "I think a lot of us have forgotten that play is a part of learning. I don't care how old you are, play is important, and to watch children out on the playground in the middle of the school day is terrific."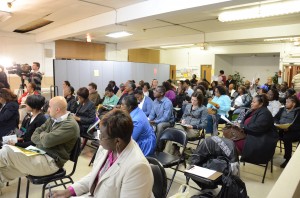 But a different scene was painted later Monday evening in the basement of Austin's Greater St. John Bible Church, where dozens of CPS teachers, employees and parents spoke vehemently against the extended day.
The public forum was hosted by Dwayne Truss, a member of the South Austin Community Coalition, and Carol Johnson, a West Side community organizer; AustinTalks co-sponsored the event, and John W. Fountain III, an Austin resident and columnist for AustinTalks, moderated.
While the event was designed as an open forum to better understand public opinion on the topic, the attitude of the room was clear early on.
"How long is a (church) sermon – 25 minutes?" Truss asked the audience of 50 people in his opening remarks, eliciting some nods of agreement. "A preacher decides to go two hours, they make their point. But they turn around, and they're going to find an empty church."
"Don't think this extended school day is a magic bullet," Truss added. "What we have to do is find the right balance."
With Chicago's school days shorter than nine other major cities in the nation, Emanuel has stated plans to lengthen the day at hundreds of CPS buildings by up to 90 minutes for the 2012-13 school year, once expiring union contracts make the extension possible.
But the mayor's team has been trying to get school days extended sooner by pushing teachers to voluntarily relinquish their contracts early – a move that union officials say undercuts their attempts to get teachers paid for their longer hours. Union officials also say the mayor is trying divide union members before they go to the bargaining table.
"This is about more than 90 minutes," Michael Brunson, recording secretary of the Chicago Teachers Union, said Monday, earning applause. "It's about crushing a union."
Schools that voluntarily sign on for an extended day – 13 so far, including Howe School of Excellence, 720 N. Lorel Ave., and Genevieve Melody Elementary, 412 S. Keeler Ave. – will receive $75,000 or $150,000 in discretionary funds for the school, and teachers will get a one-time 2 percent bonus.
"Teachers are not babysitters – teachers are educators," said Tara Stamps, a middle school teacher at Jenner Academy of the Arts. "The only way to fight a bully (like CPS) is to stand up and fight."
Paraprofessionals, such as office workers, aides and other school employees, were also a vocal group at Monday's forum – including Roberta Wilson, an 84-year-old former school worker from Austin who retired two years ago.
Wilson said she is most concerned about children's safety as they travel to and from school in the dark during extended hours in the darkened winter months.
"Our babies need help out there on the playground," Wilson said. She added, however, that even if paraprofessionals were hired for extended school hours, she does not believe a longer school day is needed.
"The children right now, they need to be going in (to school) and going out and going home and doing homework with their parents," Wilson said.
Only two people at the forum spoke in favor of an extended school day; both elicited shouts of disapproval from the audience.
One was Michael Stinson, a pastor, community organizer and former candidate for alderman in the 28th Ward. Stinson spoke about his experience with his 6th-grade daughter, who was performing two grade levels below average before she met a teacher who, "breathed life into her."
"I just want her to have more of that," he said. "More school cannot be a bad thing."
As an organizer, Stinson said he understands why the union is angered by the mayor's approach. But he said he hears daily from teachers who believe a longer day is needed, but are angered by what they view as disrespect and short-changing from the mayor's office.
"(Teachers') interest is to make sure they band together, and I understand that. They should be here," Stinson said. "But if we can get the questions of respect for teachers, and how they're going to get paid out of the equation, everyone is in favor of a longer day."
State Reps. La Shawn Ford (D-Chicago) and Camille Lilly (D-Chicago) also attended the event.